China Woos Indonesia's New President
Beijing and Jakarta promote maritime cooperation, despite differences over how to handle the South China Sea issue.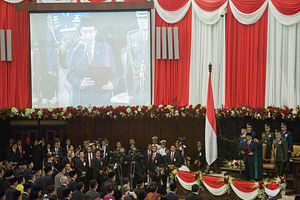 Chinese Foreign Minister Wang Yi visited Indonesia on Sunday and Monday, his first trip to the country since the inauguration of president Joko "Jokowi" Widodo. Wang's meetings with Jokowi and new Indonesian Foreign Minister Retno Marsudi helped set the tone for China-Indonesia relations during the newly installed Jokowi administration.
Based on Wang's visit, all signs indicate that Jokowi will seek to boost China-Indonesia cooperation. China is on board as well — Wang Yi called Indonesia a "diplomatic priority for China" and a central part of China's neighborhood diplomacy (which always tops Beijing's foreign policy agenda).
Most significantly, in terms of solid outcomes, Jokowi told Wang that Indonesia supports the establishment of the Chinese-led Asian Infrastructure Investment Bank (AIIB). As Zach reported last week, Indonesia (along with South Korea and Australia) was one of several major Asia-Pacific countries not to sign on to the AIIB at its official launch. However, Indonesia's absence from the AIIB launch was attributed not to political reticence but to timing. Jokowi was only inaugurated as president on October 20; that did not give his administration enough time to consider the AIIB proposal.
Now, however, reports indicate that Jakarta is leaning toward joining the bank. Xinhua reports that Jokowi "pledged his support for the establishment of [the] Asia Infrastructure Investment Bank." Chinese Foreign Ministry spokesperson Hua Chunying said that China "welcomes the joining of countries in and outside the region into the AIIB, including Indonesia." Hua added, "The Chinese side hopes to make the AIIB an important platform featuring unity, cooperation, mutual benefit and common development with the concerted efforts of all parties." Bringing Indonesia on board would be a major win for the AIIB (and thus for China) given Jakarta's status as the de facto leader of Southeast Asia.
Foreign Ministers Wang and Retno also pledged to boost maritime cooperation between their countries. In particular, Indonesia is on board with China's Maritime Silk Road initiative. Jakarta's cooperation is crucial to fulfilling Beijing's vision of a maritime trade network stretching from East Asia to the Middle East, due to both Indonesia's rapidly growing economy and its geographic location on the southern edge of the Malacca Strait. Jokowi's administration seems not only willing to join this project but eager to reap the infrastructure benefits that China offers to participating nations. "Chinese enterprises have an advantage in technology, as well as funds to help develop ports, bridges, toll roads, steam and water power generators, and other infrastructure projects that Indonesia needs." Wang said, according to CRIEnglish.
The commitment to maritime cooperation belies the common claim that Indonesia and China are increasingly at odds thanks to their expanding navies. Instead, both Jokowi and Wang emphasized the complementary nature of their countries' maritime ambitions. "Indonesia is on the way of developing into a maritime power, while China proposes to build the 21st century Maritime Silk Road; the two initiative highly fit with each other," Xinhua quoted Jokowi as saying. For his part, Wang welcomed Indonesia's participation in the Maritime Silk Road and promised that China would participate "actively in Indonesia's construction of maritime power" (largely by assisting with infrastructure development).
When it comes to maritime cooperation, the South China Sea disputes are the elephant in the room. Indonesia, while not a claimant in any of the disputes, sees itself in the role of neutral mediator between the ASEAN claimants and China. This has put Jakarta at odds with Beijing, most recently at the ASEAN Foreign Minister's Meeting in August. Indonesia backed the Philippines' "triple action plan," which called for a freeze on activities that would escalate tensions (including construction and land reclamation projects), the finalization of a South China Sea code of conduct, and the use of international arbitration to settle disputes. China rejected this proposal out of hand. Beijing has also vehemently opposed "outside interference" in its bilateral disputes. This position is usually read in the context of the United States but it is equally troubling to Jakarta, itself an interested bystander hoping to play an active role in the dispute resolution process.
For these reason, the Jakarta Post recently argued that addressing the South China Sea disputes, including at next weeks' APEC summit, will be "the immediate and biggest litmus test" for Jokowi's administration. The Post warned that ASEAN, fractured by the territorial disputes, risks being sidelined – unless Indonesia can take up a leadership role and unite the 10 ASEAN members. If Indonesia cannot create consensus on the South China Sea issue, the Post said, "outside powers will dominate in its own backyard." China, meanwhile, does not want to see the South China Sea disputes handled through ASEAN at all, and certainly doesn't want to deal with a united bloc in its territorial negotiations.
Jokowi will travel to Beijing next week for the APEC summit, where he will meet Chinese President Xi Jinping. Indonesia's role at APEC, particularly if the South China Sea disputes come under discussion, will be a telling sign of Jokowi's approach to Indonesia-China relations.