Could China Broker Talks Between the Afghan Government and the Taliban?
China has submitted a proposal to the Afghan government that suggests it could broker reconciliation talks.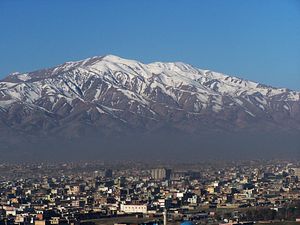 As U.S. and NATO troops prepare to mostly depart from Afghanistan at the end of this year, the question of which powers will attempt to fill the vacuum left behind remains unanswered. Amid this uncertainty, China looks to be determined to ramp up its involvement in Afghanistan's national reconciliation process. According to an exclusive report by Reuters, based on access to diplomatic documents and conversation with Afghan officials, China has put forth a proposal to revive the long-stalled dialogue between the Afghan government and the Taliban. If this proposal were to come to fruition, it would represent a massive increase in Chinese involvement in Afghanistan. Up until today, China's role in Afghanistan has been primarily economic.
For Beijing — like Washington — seeing the Taliban resurgent in Afghanistan would be a geostrategic nightmare. As we saw earlier this year, China's official line on Afghan security is explicit about the national security threat to Beijing. During a rare trip to Afghanistan earlier this year, Chinese Foreign Minister Wang Yi told his counterpart that China was concerned that insecurity in Afghanistan would lead to greater insecurity for China's own restive western provinces — Xinjiang in particular. Anti-government Muslim insurgent groups, such as the Uyghur nationalist East Turkestan Islamic Movement (ETIM), are known to use Pakistani and Afghan territory for regrouping and planning purposes. Beijing already cooperates with Afghanistan's military and intelligence services on capturing members of these groups.
However, actually mediating a political reconciliation process between the government and the Taliban represents an endeavor with a much larger scope. The United States attempted the same in late-2012 and early-2013 with the decidedly unsuccessful Doha process. By putting forth this proposal, Beijing is trying something new with its diplomacy toward Afghanistan. Instead of taking the easier road of acting as an economic benefactor, an active Chinese hand in national reconciliation — provided it is done right — could prove to be net stabilizing force in Afghanistan. In the eyes of the Taliban, China does not carry the same negative baggage as the United States.
The Reuters report also suggests that Pakistan would be involved in this process — at least, it is mentioned in the proposal China presented to Afghanistan. This again is surprising given that Afghanistan and Pakistan remain highly skeptical of one another. Afghans in particular remain convinced that Pakistan's military-intelligence community wishes to see Kabul remain weak and ineffective. China, by offering to mediate between these two often quarreling states, could end up damaging its relations with both sides. The Reuters report is naturally light on details of the specifics of the proposal, but it is plausible that Beijing would avoid pushing Pakistan's hand too far. One way that Beijing could enlist Islamabad's cooperation is to work with Nawaz Sharif's besieged government in an attempt to link the Afghan national reconciliation process with Pakistan's own troubled process with its branch of the Taliban. After talks fell apart between the government and the Taliban in Pakistan earlier this year, the Pakistani military launched a major campaign against the group in the country's tribal regions.
Despite the uncertainty surrounding the specifics of the proposal, what is certain is that Beijing will play a major role in Afghan security following the U.S. and NATO draw down. Not only will the Afghan government find itself with access to a diplomatic partner with a different set of political and economic offerings than the United States, but it could also potentially find a long term partner with stakes in its bid to bring stability and security to Afghanistan.