The Emerging India-Australia Maritime Relationship
Narendra Modi is making a triumphant tour of Australia at an interesting time in bilateral relations.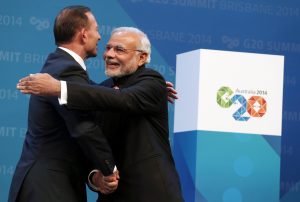 There was a palpable excitement in India when Prime Minister Narendra Modi jetted off to attend the G-20 summit at Brisbane. This was partly because of the announcement that Modi would be embarking on a bilateral tour of Australia at the completion of the meeting of world leaders, and that he would be addressing the Indian diaspora in Sydney tomorrow, in what was a much anticipated recreation of the Madison Square Garden moment in New York two months ago. This time, Modi is expected to speak to a crowd of around 20,000 people.
Engaging with the Indian expatriate community is, indeed, fast becoming Modi's signature move on his tours abroad. There is nothing quite as effective as mass fervor in conveying political strength and India's charismatic premier realizes its inherent potential. From a foreign policy and regional security perspective, however, it is Modi's meeting with his Australian counterpart Tony Abbott that promises a more interesting outcome.
There are a number of issues for discussion, but one that is likely to top strategic agenda is "maritime security." Ever since Canberra officially declared its interests in the Indian Ocean last year, there has been speculation in the strategic community about an evolving maritime coalition in the Indian Ocean Region (IOR). Indeed, Australia has in recent years sought to strengthen its nautical posture in the Indian Ocean, reviving its ties with regional states. It is, however, the vigorous pursuit of its relationship with India that has provided evidence of Canberra's desire to play a larger security role in the IOR.
Maritime watchers point out that Australia's consistent efforts for a deeper, more purposeful maritime association with India have begun to bear fruit. Last year, at the special invitation of Australia, the Indian Navy sent its latest indigenous warship INS Sahyadri to participate in the International Fleet Review (IFR) in Sydney – a move widely perceived as a sign of a growing nautical convergence. The maritime interaction was widely perceived as the first concrete achievement in a set of deliverables envisaged during AK Anthony's visit to Canberra in June last year, when the two sides had signed an agreement on regular ministerial level meetings, frequent defense exchanges, and deeper maritime collaboration. Safety of sea-borne trade was on the agenda during Abbot's visit to New Delhi in September this year, with both sides reaffirming the need for a "peaceful, prosperous and stable Asia-Pacific region, underpinned by cooperative mechanisms."
By all accounts, however, it is the decision to hold a bilateral maritime exercise in 2015 that has been the most encouraging development in India-Australia maritime ties – especially since the last time the two navies engaged operationally was during Exercise Malabar in 2007. Still, the maritime interaction between the Indian Navy and Royal Australian Navy (RAN) has yet to attain the critical mass needed for a self-sustaining relationship. While it is true that the two navies have worked together in anti-piracy operations in the Gulf of Aden, joint maritime endeavors still lack the momentum needed for a durable partnership. The statements of intent have been encouraging, but they have yet to trigger operational cooperation in all areas of maritime security.
Maritime analysts believe the Indian navy is keen to expand the scope of the 2015 exercises, but a continuing political ambivalence is preventing the injection of strategic substance into the maritime relationship. If security cooperation has to be taken to a higher level, India has little choice but to focus on high-end engagement during the exercises next year. For this, the current template of operations that limits the interaction to exercises such as search and rescue (SAR) and disaster relief and humanitarian assistance (HADR) needs to be expanded to include high-spectrum operations like anti-submarine warfare and anti-air drills, VBSS operations, and special forces engagement.
It is pertinent that Canberra's options for maritime partnerships in the Indian Ocean are not limited to New Delhi. Australia recently announced a partnership with Seychelles and Mauritius in a "blue economy" project in the Indian Ocean. The centerpiece of the proposal is a plan for greater hydrocarbon exploration and better Australian technology to harvest renewable energy from the ocean's waves. Conceivably, this might prove to be an expensive proposition for Australia. Nonetheless, by underwriting marine economy projects Canberra has shown it is willing to think imaginatively in nurturing its Indian Ocean ties.
Even in its maritime relationship with India, the impetus for bilateral collaboration has come from Australia. The extent to which Canberra regards cooperation with New Delhi as critical for regional maritime security is clear from Australia's 2013 Defence White Paper, which prioritizes relations with India and Indonesia. Interestingly, only a few months after the release of the White Paper, Australia released a Country Strategy Document on India that identified the Indian Navy as possessing the most potential for a close maritime partnership.
The attempts to deepen Australia's maritime ties with India come at a time when Canberra is drawing closer with Tokyo, and developing a more pragmatic political equation with Jakarta. Reports from Canberra about a potential deal for the procurement of the Soryu-class submarines from Japan, and Tony Abbott's invitation to Indonesia's new President Joko Widodo to attend the G20 summit, indicates a keenness on Australia's part to improve its strategic relationships in its maritime neighborhood. Friendly relations with Japan and Indonesia are a key factor in India's own geopolitical calculus, and critical in maintaining strategic balance in the Asia-Pacific region.
The two most important factors driving India-Australia maritime security cooperation are the growing Chinese naval presence in the Indian Ocean, and the concept of the "Indo-Pacific." In the past few years China has expanded its military-maritime footprint in the IOR – a reality starkly brought home by the recent deployment of a Chinese submarine to the region. But even as India has watched a greater PLA-N presence in the Indian Ocean with studied wariness, it has desisted from a closer maritime partnership with the U.S., Japan and Australia.
New Delhi does have a point. Close alignment with the U.S. and its allies in the Pacific is a provocative move and one likely to disturb the regional maritime equilibrium. In the search for alternate ideas, however, a suggestion to create Indo-Pacific "middle power coalitions" – an informal arrangement where the  powers in the middle would make it a priority to strengthen and help one another, working in self-selecting groups, or "minilateral" arrangements that do not include Beijing or Washington, seems interesting. This sort of arrangement could indeed achieve a favorable end-state without India having to overtly align with the U.S. A number of Indian analysts, in fact, now agree that in the implementation of the current government's "Act East Policy" there is a need to legitimize the "Indo-Pacific" concept – even if in a qualified sense.
The imperative for India to cooperate with Australia is also driven by the fact that the latter is prominent in both the Indian Ocean Naval Symposium (IONS) and the Indian Ocean Rim Association (IORA), two multilateral institutions in which New Delhi has a significant stake. The Indian Navy has been the motivating force behind the IONS initiative and is keen to see the grouping enhance its stature and utility. Meanwhile, New Delhi continues to play an important role in shaping the IORA agenda, which now has a clear maritime security slant.
In his interactions with Australian policymakers, Modi will be aware that India's interests are best served by a strong nautical relationship with Australia. In the past few weeks New Delhi has shown it is ready to refocus attention on its Indo-Pacific partnerships by reaching out to Japan, the U.S, and Vietnam. A maritime security arrangement with Australia will serve as an auspicious augury.
There is a symbolism in the India-Australia maritime relationship that quietly but firmly reiterates New Delhi's strategic imperatives – a need for presence in the Indo-Pacific, a security role in the region commensurate with India's international stature and a power-projection capability that helps it secure its long-term commercial interests. More importantly, aligning with Australia in the Indo-Pacific reflects a strong political commitment for sustaining a framework of cooperative security in India's near and extended maritime neighborhood.
Abhijit Singh is a research scholar at the Institute for Defence Studies and Analyses and looks at Maritime Security in the Indian Ocean. He is co-author of the book Indian Ocean Challenges – A Quest for Cooperative Solutions.