Jokowi's Big Energy 'Swing'
Subsidy cuts and tax holidays may jumpstart investment, but minimum safety nets should be maintained.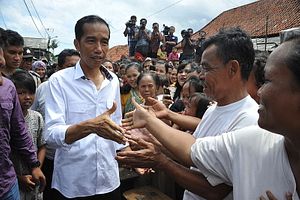 After Joko "Jokowi" Widodo assumed the Indonesian presidency in October, he has sought to swiftly implement a new style of leadership and governance. While we here at The Diplomat have looked at several facets of his new government, his energy policy has swiftly come into focus this week. While the effect of some of these new policies will take months, if not years to evaluate, their overall trajectory is one that is likely to satisfy foreign investors, with the impact on local consumers (particularly the poor) unclear. However, there are signs that Jokowi's administration understands this disconnect, and is formulating a policy to meet it.
On Monday, Jokowi announced fuel subsidy cuts of 30.77 percent on gasoline and 36.36 percent on diesel that took effect on Tuesday, and which are expected to save the government $8.2 billion annually. The central bank also raised the benchmark interest rate 25 basis points to 7.75 percent in order to stave off inflation as a result of the subsidy cut. The Nikkei Asian Review also reported on Tuesday that state energy company Pertamina will invest $20 billion in domestic oil production to double output from 1.6 million barrels per day (bpd) by 2020, and will largely be able to do so thanks to a 10-year tax holiday. Coincidentally, foreign companies have shown interest in helping Indonesia expand its output, but according to the Nikkei "have so far failed to reach agreement over tax issues." If they are allowed to partner with Pertamina, the tax holiday may be applied to some of their investments.
The cut to fuel subsidies has already led the transportation ministry to announce hikes in bus and train fares, and while the increase in domestic oil production will likely mean cheaper fuel prices over the medium term, the hole in revenue created by the tax holiday will limit the government's ability to mitigate the price increase problem for low-income households. However, the government plans an aid program of 6 trillion rupiah ($493 million) to distribute funds to 15.5 million citizens so that the "recipients can use [them] to receive free medical care, school books and other benefits." However, this figure represents less than one-sixteenth the amount of government revenue saved by the subsidy cut.
The government does plan to revise the 2015 budget to include greater spending on healthcare and infrastructure, which will both directly and indirectly benefit the poorer segments of the population. The clearest beneficiaries of this new batch of policies, though, appear to be investors and the domestic energy industry. While Indonesia is intent on attracting new businesses and investment to help it move beyond the middle-income trap, the new populist government will have to be careful to maintain policies that facilitate the mobility of its poor population. Otherwise civil unrest could lead to renewed political gridlock.