India-Australia Ties: Assessing Jaishankar's Australia Trip
India and Australia's relationship has progressed remarkably, underscoring shared concerns in the Indo-Pacific.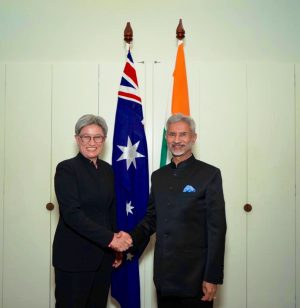 India's External Affairs Minister Dr. S. Jaishankar traveled to New Zealand and Australia from October 5-11. While this was the minister's first visit to New Zealand, it was his second visit to Australia this year as he was in Canberra in February for the Quad Foreign Ministers' meeting. In New Zealand, Jaishankar held meetings with Prime Minister Jacinda Ardern, Foreign Minister Nanaia Mahuta, and several other ministers. Jaishankar's Australia trip included meetings with Foreign Minister Penny Wong, Australian Deputy Prime Minister and Defense Minister Richard Marles as well as interactions with the Australian Navy and others. Jaishankar was also in Australia for the 13th Foreign Ministers' Framework Dialogue (FMFD) along with his Australian counterpart. 
The visit comes against the backdrop of significant geopolitical turmoil, from Russia's invasion of Ukraine to China's continuing harassment of its neighbors and heightened tensions in the Taiwan Strait. India and Australia, both Quad members, have had a difference in approach as far the Russian invasion is concerned, but that difference appears not to have affected bilateral relations or Quad engagements. The strategic consequences of China's rise have so far managed to hold the focus of the Quad and the bilateral relationships, despite difference sin other areas. 
While addressing the Australia-India Leadership Dialogue, Jaishankar rightly acknowledged links in trade and education, with increasing numbers of Indian students choosing Australia as their destination. This is a vital contribution to the bilateral relationship, but the Indian foreign minister pointed out that "it is really in the realm of politics and strategy that the transformation has been the sharpest." He reiterated the growing congruence between the two sides shaped by their "shared concerns about respect for international law and a rules-based order."
Australian Foreign Minister Penny Wong said, "We have a shared interest and a shared ambition in a stable and prosperous region where sovereignty is respected. For Australia, our partnership with India is a critical part of shaping the region we want." During the joint press conference, she also said something that India has been articulating for a while: That India and Australia "don't want to see any one country dominating or any country being dominated." Jaishankar has made similar statements on multiple occasions.
As for the emerging strategic order in the Indo-Pacific, Jaishankar added that there is a clear recognition, which he sees as a big change, that "a stronger bilateral relationship today allows the two nations to contribute much more effectively at a regional and at a global level." He also brought out the multifaceted and comprehensive nature of the bilateral relations, spanning from maritime security and mutual logistics support to cooperation in cyber-enabled critical technology, critical and strategic minerals, water resources management, vocational education and training, as well as public administration and governance. The two sides have also reached a better understanding of what needs to be done in some of the more critical technology arenas. This has facilitated the Australian side extending assistance for the temporary Telemetry Tracking and Command Center for the Gaganyaan Mission of India, which is to take place in 2023. 
It is also noteworthy that the two sides have a Comprehensive Strategic Partnership that includes an annual meeting of prime ministers, a foreign minister's dialogue, a 2+2 defense and foreign ministers meeting, a trade ministerial commission, an education council, an energy dialogue, and sectoral working groups. That the relationship has come this far in a very short period of time is a remarkable achievement and a testament to the clarity with which the two countries approach each other. As Jaishankar highlighted, growing political confidence has brought Australia into the Malabar series of naval exercises from 2020.
It is that political confidence and converging strategic interests that led to India's extraordinary support for Australia with regard to AUKUS at the International Atomic Energy Agency (IAEA). That India supported Australia in the face of stiff opposition from Russia and China is evidence of the strategic trust that the two sides have come to have in each other. This was also India's way of reciprocating Australia's support to India on a number of critical issues in recent years, including India's Nuclear Suppliers Group (NSG) membership as well as on counterterrorism issues. 
Stronger defense engagements have seen a boost in recent years, with the two militaries taking part in both bilateral and multinational exercises. Defense Minister Marles' travel to India in June 2022 soon after he came into office was significant in terms of India's importance in Australia's strategic thinking but also a reflection of the growing strategic confidence in each other as key security partners in the Indo-Pacific. China has made repeated efforts to keep both India and Australia off-balance by use of military force and economic and trade coercion, both of which have pushed New Delhi and Canberra to consolidate their efforts in addressing the common threat from China. With this strategic rationale, Australia, despite being a U.S. security alliance partner, has taken steps to establish and nurture multiple strategic partnerships in the Indo-Pacific. 
A tricky issue in India's engagement with Australia as well as its other new security partners is the Russia question. So far, it has not affected the functioning of the Quad. The other three Quad partners have shown an enormous understanding of India's delicate position considering the large Russian component in India's defense inventory. In fact, to a question from the press during their joint media briefing, Australia's Wong said that the Quad is "functioning extremely well… the level of strategic trust and strategic consistency amongst Quad partners is deep and firm." Jaishankar added that Quad is primarily a mechanism for the Indo-Pacific, on which "the convergence of interests between the Quad partners is particularly strong." For the time being, Australia and other partners maintain an understanding of the Indian position, but India needs to be careful in not pushing that beyond a point.