Australia's Delicate Soryu-Sub Balancing Act
The fine line between defense partnerships and alliances must be managed carefully.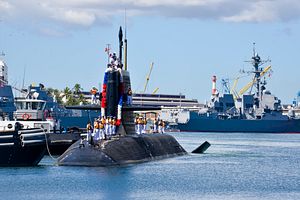 Defense ties between Japan and Australia have been progressing steadily this year, with Japan quickly becoming an important partner for Australia. Since their deal for Japan to transfer military technology this July and the subsequent agreement to purchase Japanese Soryu-class diesel submarines, not to mention high-level "two-plus-two" meetings between their defense and foreign ministers, it would appear that the two countries might be drifting toward a more formal alliance. While Japan's current administration might indeed be interested in such an alliance despite its constitutional restraints, Australia is likely not interested in any formal structure that binds it to helping defend Japan, particularly given the deterioration in tensions with China in the East China Sea over the past few years.
According to the Sydney Morning Herald, Japanese officials are starting to refer to the relationship as a "quasi-alliance." They claim the rapid expansion of ties has led them to become each other's greatest defense partner aside from the U.S., while the principal deputy director of the National Security Policy Division within the Ministry of Foreign Affairs, Takuma Kajita, has said their cooperation on submarine technology and Australia's sharing of satellite intelligence reflects the growing relationship. According to Kajita, "[Prime Minister Shinzo] Abe wants to raise the relationship between Japan and Australia considerably, his instructions are very clear, and he wants good trilateral relations between Japan, Australia and the U.S." Toward this end, Japan established on April 1 an "Australia-Japan Defense Cooperation Office" within the defense ministry to manage the rapidly growing relationship.
Australia for its part appears to be tempering expectations about any formal alliance. It must balance its desire for Japanese hardware and military agreements with the U.S. against its enormous trade and investment relationship with China. So with regard to the Soryu development agreement, Canberra appears to be splitting the difference between its two biggest defense partners, which may in turn still upset China. According to "sources close to the matter" who spoke with the Yomiuri Shimbun, Australia will likely purchase the Japanese Soryu hulls and marry them to U.S. communications and weapons systems. This will ensure that the Australian and U.S. fleets maintain interoperability.
The sources also stated the three partners will probably hold talks in Australia on the sidelines of the G20 summit in November. "Officials of the three governments are coordinating views so that their leaders can exchange opinions on the joint development of the submarine while discussing military cooperation," and that if the three countries agree to jointly develop Australia's new submarine, their cooperative military relationship "will enter a new stage."
This new, higher level of integration between the three is wholly advantageous for the U.S. and Japan, yet Australia has additional constraints. While it seeks the latest and most advanced military hardware, it cannot afford to be encumbered by any formal alliance with Japan, which is becoming more assertive in the East China Sea and boosting defense ties with China's antagonists in the South China Sea, while simultaneously attempting to reinterpret its pacifist constitution to broaden its defense mandate. Japan's interests are more in line with U.S. strategy, which seeks to contain China's military rise at the lowest possible cost, by augmenting the military capabilities of regional allies in order to reduce the risk of direct confrontation. This approach is more difficult for Australia to maintain given its more diffuse interests in the region and less antagonistic relationship with China, creating a fine line Canberra must walk to keep from risking unnecessary conflict with Beijing.