Will History Repeat in Japan?
Poor economic data prompt election talk and put the next consumption tax hike in doubt.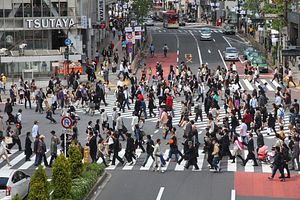 Japan's relapse into recession has fired criticism of Abenomics and the effectiveness of its pro-growth policies. However, Prime Minister Shinzo Abe may yet have the last laugh as he prepares for December's general election.
On Monday, the Cabinet Office surprised economists by announcing that gross domestic product (GDP) in the September quarter shrank by an annualized 1.6 percent, defying consensus estimates of a 2.2 percent rise. Despite gains in consumer spending and net exports along with extra government expenditure, sluggish inventories, capital spending and residential investment weighed on the world's third-biggest economy.
September's decline followed a revised 7.3 percent annualized fall in the previous quarter after April's consumption tax hike, satisfying the technical definition of a recession.
"April's sales tax completely destroyed Japan's economy – no part of Japan's economy looks encouraging," Yoshiki Shinke, chief economist at Dai-ichi Life Research Institute, told Bloomberg News.
"[The] data will leave another traumatic memory for Japanese politicians about sales tax hikes."
Japan also slumped into recession after the 1997 consumption tax hike by the then Liberal Democratic Party (LDP) government of Ryutaro Hashimoto, a lesson Abe and his colleagues would have noted.
Abe reportedly told ruling coalition partner Komeito that the GDP data "were unfortunately not so good figures…We cannot miss a chance to get the economy out of deflation."
The negative numbers hit financial markets across the region Monday, with the MSCI Asia Pacific Index dropping 1.2 percent as stockmarkets from Sydney to Singapore slipped into the red. Tokyo's Nikkei Stock Average fell by 3 percent to below the 17,000 level, its biggest one-day drop since August.
The Japanese yen also dived to its weakest level against the U.S. dollar since 2007, on speculation the weaker data would force a postponement of the legislated October 2015 increase in the consumption tax to 10 percent, as noted by Tokyo Report.
Ironically, the GDP drop followed international backing for Abenomics at the G20 Leaders' Summit in Brisbane, Australia, at which the group pledged to collectively boost global growth by 2.1 percent over the current trajectory by 2018. The pledge included more than 800 measures to achieve the target, including for Japan, with policy implementation to be assessed by the International Monetary Fund and OECD.
Abe's subsequent decision to call a snap election for December 14 will give his party a mandate to postpone the consumption tax hike, rebuffing efforts by the Ministry of Finance to claw back government revenue to address the developed world's highest level of public debt.
Improvement Seen
Yet despite the weak figures, other economists see signs of improvement, particularly following the Bank of Japan's "Halloween surprise."
"The main culprit was not so much consumer spending, which grew by 0.4 percent, but housing investment, which expanded before the sales tax hike in April, as well as disappointing overall business investment," Fujitsu Research Institute's Dr Martin Schulz told The Diplomat.
"The outlook for the next quarter is quite a bit better than during the third quarter, so I don't see Japan being stuck in recession. The economy has been bottoming out during the summer and is already picking up – exports have been increasing, production has been increasing, and investment plans remain in place, despite the drop in inventories during the last quarter. Overall policy remains extremely expansionary, which certainly helps, and exports got an additional boost by the BOJ policy change and an even weaker yen."
The Tokyo-based economist said a delay in next year's planned consumption tax hike "was already more or less decided, even before the [GDP] data."
"Policymakers and in particular politicians have been looking for reasons to delay the extremely unpopular VAT hike for a while. A delayed tax hike should go down well with households, so it seems to be a much better election platform to most in the LDP, in particular in comparison to the unpopular policy steps that need to be done down the road."
Schulz said the consumption tax hike would likely be delayed until April 2017, as indicated by other media sources, giving Japanese consumers and businesses the opportunity to recover from this year's added impost amid a sluggish global recovery.
"The risk is that it becomes delayed infinitely because the window of opportunity that the current expansionary policy provides will be closing fast next year," he added.
Other economists have noted recent upbeat data, including improved employment and corporate profits and the first rise in household appliance shipments in five months.
"While there had been a mini-recession since February, it's possible that the economy is now recovering after bottoming out in August," Yuji Shimanaka of Mitsubishi UFJ Morgan Stanley Securities told the Nikkei Asian Review.
Mizuho Research Institute's Hidenobu Tokuda told the Japanese financial daily that GDP would expand by an annualized rate of 4 percent in the December quarter, aided by winter labor bonuses and higher wages at small and midsize enterprises.
And in a positive sign for the nation's exports and investment, the Nikkei gave an example of air conditioner maker Daikin shifting production of household units back to Japan from China, with the weaker yen likely to encourage others to follow.
The Japanese government is reportedly planning a supplementary budget of around 3 trillion yen ($25 billion) for fiscal 2014 to further aid the economic recovery. Delaying the consumption tax hike could also add another 0.5 percent to growth, Bloomberg News reported.
For Abe though, the GDP data has given the fiscal hawks in the government and parliament a lesson in the need for faster growth before further tax hikes hit the nation's shell-shocked consumers. A likely election victory would also give the prime minister a mandate for further structural reforms, with the prime minister under international pressure to ensure Japan keeps its end of the G20's global growth bargain.