China Holds Air-and-Sea Exercise Near Okinawa
Plus, Taiwanese indigenous missiles, costs of equipping a PLA soldier, and South China Sea. Mid-week links.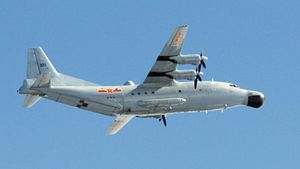 A few mid-week defense and security links:
IHS Jane's 360 reports on a Chinese PLA air-and-sea exercise in the Pacific this December in close proximity to Japan's Okinawa. The exercise takes place just south of Japanese territory and involves a variety of hardware including a Type 052 Luhu-class destroyer, a Type 051C Luzhou-class destroyer, and two Type 054A Jiangkai II-class frigates. The exercise comes at a time when relations between China and Japan have improved ever so slightly despite their territorial dispute in the East China Sea over the Senkaku/Diaoyu Islands. China has also reduced aerial and naval provocations in the region over the past few months.
Taiwan's Defense Ministry announced earlier this week that it will move ahead with plans to purchase two frigates from the United States despite China's opposition to the sale. The bill to authorize the sale of U.S. Perry-class missile frigates to Taiwan received unanimous approval in the U.S. Senate. Back in April, a similar bill cleared the U.S. House of Representatives with vocal Chinese protest. According to a spokesperson for the Taiwanese Defense Ministry, the deal will run Taiwan around $176 million. As Flashpoints columnist J. Michael Cole has noted, the strategic utility of these frigates to the Taiwanese navy is questionable. In any armed conflict between China and Taiwan, the latter would be unable to protect these frigates from Chinese attacks.
A fascinating report in the Wall Street Journal's China Real Time blog takes a look at the impressively low costs of fully equipping a Chinese People's Liberation Army infantryman. Based on a report in the Southern Weekly, a Guangzhou-based newspaper, the WSJ notes that a fully equipped Chinese soldier's kit costs just $1,523 (9,400 yuan), "or roughly the value of two entry-level iPhone 6s in China." The most expensive cost in the soldier's kit is the standard issue PLA Type 95 automatic rifle. The average U.S. infantryman, according to reports in 2007, cost $17,500 to fully deck out in comparison. Personnel costs are regularly cited as one area in which developing militaries have an advantage over their more developed counterparts. The low cost of China's soldier kits means that the PLA is able to field a much larger standing military force at a lower cost.
Taiwan showcased indigenously designed supersonic anti-ship cruise missile and surface-to-air missile systems. According to IHS Jane's 360, Taiwan's Chung Shan Institute of Science & Technology (CSIST) made footage available demonstrating the Hsiung-Feng III "carrier killer" and Tien Kung III SAM systems in action. Both systems will be used by Taiwan to deter any mainland Chinese military action.
Over at CSIS, Gregory B. Poling takes a look at two recent position papers released both by the United States and the People's Republic of China containing legal reasoning about China's territorial claims in the South China Sea. Both papers outline how each country views China's territorial claims in light of international law and norms, including both customary international law and conventions such as the United Nations Convention on the Law of the Sea (UNCLOS). Poling ends his piece by looking at what the position papers could mean for the ongoing international legal process between China and the Philippines.