Are Chinese Drones Heading to the East China Sea?
East China Sea, South China Sea, and history. Links to start your week.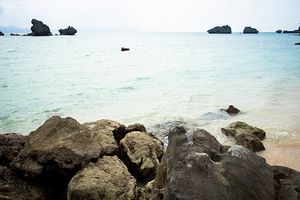 A few curated defense and security links to start your week:
Chinese drones in the East China Sea? Japan's Kyodo News reported last week that China's People's Liberation Army may move forward with the use of remotely piloted aircraft (i.e. drones) over disputed waters in the East China Sea. China disputes the sovereignty of the Senkaku/Diaoyu Islands, which are administered by Japan and claimed by China. In late 2013, Japan clarified that it would shoot down any foreign drones that entered its airspace after ignoring initial warnings. While tensions in the East China Sea have decreased in recent months, aerial provocations by China could once again turn up the heat and force a Japanese response. Of course, this squares nicely with a new Yomiuri Shimbun report that China is planning a coastal base in Wenzhou, Zhejiang Province, to monitor the seas around the Senkakus.

Why all the ambiguity in the South China Sea? This post over at CSIS's Asia Maritime Transparency Initiative by a Chinese legal scholar is worth reading. It examines the reasons that China has chosen to keep the precise extent of its claims in the South China Sea ambiguous under international law within its nine-dash line framework. The AMTI article pairs nicely with two recent takes on the South China Sea issue here at The Diplomat: Carl Thayer's analysis of how China is winning in the South China Sea through its use of "legal alchemy," and Andrew Chubb's take on what exactly the status quo — both normatively and positively — means in the context of the South China Sea.
History in East Asia. It'd be an understatement to say that history continues to drive perceptions in the international relations of East Asia. This year marks the 70th anniversary of Japanese surrender in the Second World War and leaders in China and South Korea are watching Japanese Prime Minister Shinzo Abe's language closely. This article by three scholars of Asian history — a Sinologist, Koreanist, and a Japan historian — takes a look at the broader implications of this anniversary and how precisely it is likely to affect diplomatic outcomes in the region. The events surrounding Japan's surrender will hit their 70th anniversaries in mid-August and early September, so this issue will grow more and more salient as the year progresses. Meanwhile, China, South Korea, and Japan are considering a trilateral summit with their leaders later this year, after a three year hiatus. History has to potential to derail this — and a lot of this will come down to how Abe handles the anniversary.
On the podcast. Jeff Smith of the American Foreign Policy Council came on the podcast last week to discuss his recent travels to New Delhi and Tokyo. We have a broader discussion about Asia's security architecture and the growing appeal of trilateralism among states concerned by China's rising assertion in the South China Sea and elsewhere.