China Sets Economic Reform Targets for 2015
The Central Economic Work Conference gave an overview of China's economic goals for 2015. Topping the agenda: reform.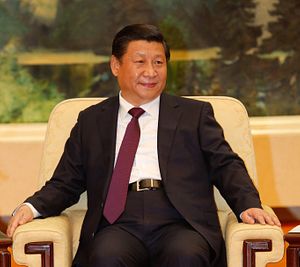 China concluded its Central Economic Work Conference on Thursday, putting in place a roadmap for furthering the economic reforms first called for at last year's Third Plenum. The conference featured remarks from top leaders, including President Xi Jinping and Premier Li Keqiang and reaffirmed China's commitment to a "new normal" of slower but more sustainable economic growth.
According to Xinhua's definition, the "new normal" means "a shift from high speed growth to a medium-to-high one, a shift from focusing on quantity and speed to quality and efficiency in growth model, a shift from stressing production expansion to improving current production, and a shift from growth being driven be conventional engines to increasingly driven by new ones." Most importantly, the "new normal" means an end to the years of double-digit GDP growth driven largely by government investment and exports. That development model has largely run its course and is not sustainable in the long term. Accordingly, China is seeking a new growth model more dependent on domestic consumption and services.
In addition to purely economic concerns, though, the move toward a "new normal" is also being driven by social factors, the conference statement said. Chief among them: "an aging society and decreasing rural work force" as well as "more rigid energy and environmental constraints." Demographic realities mean China can no longer rely on having a massive, relatively cheap labor force – the current backbone of China's export-driven economic model. Plus, rising environmental concerns among Chinese citizens are forcing the government to place more emphasis on "green" growth, which too requires an adjustment to China's current economic underpinnings.
While transitioning to the "new normal," however, Beijing remains committed to sustaining a certain level of growth. This year's growth target was set at 7.5 percent; officials have repeatedly clarified however that this is a "soft" target, meaning growth that dips slightly below the magic number is acceptable. Even while expressing its concerns about slowing growth and structural challenges for China's economy, the work conference was generally upbeat. The statement said China was expected to meet its growth target for 2014 despite worries of a pending slowdown.
There's no sign China will do away with growth targets altogether, which would be perhaps the most important way leadership could signal its commitment to sustainable growth over rapid growth. An editorial in Caixin notes that it's time for China to move away from a strict reliance on GDP growth targets and instead focusing on raising per capita GDP. For China, "putting less emphasis on GDP figures and more attention on inclusive growth and ensuring social justice is the better development route," the piece argues. The work conference said that China would set a "reasonable" growth target for next year; most analysts expect a target of 7 percent when the official announcement is made in March.
On a more detailed level, the conference targeted nine areas for focused reform efforts, according to Xinhua: the capital market, market access for private banks, the administrative approval process, investment (especially private investment), pricing, monopolies, franchising, government purchasing, and outbound investment. All of these have previously been highlighted as reform priorities by the central government at various times and are generally part of China's quest to allow market forces greater play in its economy.
Many of these reforms – privatizing the financial sector, streamlining administrative approvals, and encouraging investment – are being experimented with in the Shanghai Free Trade Zone. China's plan to announced new FTZs in Tianjin, Guangdong, and Fujian, as reported by Eurasia Group, will likely be a crucial step in taking these reforms to the next level.
China also plans to speed up reform of its state-owned enterprises. Xi Jinping already ordered salary cuts for top executives at SOEs back in August, an important signal that his leadership could push through unpopular changes to state-owned behemoths. China Daily, citing the secretary-general of the State-owned Assets Supervision and Administration Commission, says more SOE reforms will be announced in early 2015. Potential reforms include encouraging more private investment into SOE-dominated sectors (such as telecommunications, energy, and infrastructure) as well as reforming SOE leadership structure to more closely resemble a professional management model. The goal is both to help marketize the Chinese economy and make SOEs more competitive as they branch out to global markets.
"Going global" is increasingly a goal not only for Chinese companies but for the government itself. The Central Economic Work Conference's final statement promised to encourage Chinese companies to both invest overseas and expand their operations in other countries. In addition, the conference said China would continue promoting the yuan as an international currency.