Russian Intelligence in Kyrgyzstan, Cold War Redux
The activities of Russia's FSB in Central Asia – and Ukraine – share much in common with an earlier time.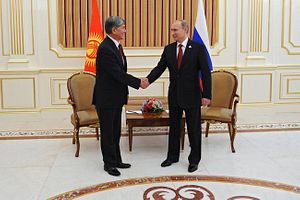 The crisis in Ukraine has highlighted the work of Russia's FSB, or Federal Security Service, in Moscow's so-called sphere of influence. It is a widely shared perception that the blueprint the Kremlin uses for the active presence of its intelligence service in the former republics is based on know-how from the Soviet era, when KGB cadres were essential to keeping communist rule intact.
KGB tactics were employed by the Politburo in Afghanistan, for instance, where Soviet advisers monitored  factional splits in an attempt to manage Afghan communist party affairs. While the Soviet Union is no more, Russia's approach to its backyard today bears many of the hallmarks of that earlier Cold War era.
The Kremlin's strategy in the mountainous republic of Kyrgyzstan is a very good example. Back in the mid 2000s, Russian satellite states Georgia and Ukraine experienced political turbulence that were dubbed "color revolutions." The Kyrgyz Republic had its own uprising, which overthrew what had been a typical ex-Soviet regime. These events helped to shape Russia's policy of engaging with its former territories to preserve the Kremlin's influence.
The Russian leadership's particular interest in Kyrgyzstan has been tied to NATO's use of the Manas Air Base to supply its operations in Afghanistan. The Kremlin's coercive actions in Kyrgyzstan led to a second uprising in the country that was later named the "April revolution" of 2010. Western observers believe that the Russian security services were complicit in the overthrow of the regime in Bishkek four years ago. That year, 2010 was a disastrous one for the Kyrgyz Republic, with severe ethnic conflict between Kyrgyz and Uzbeks occurring in June, in the country's southern provinces.
In the fall of 2010, the Kremlin set up a Russian FSB surveillance team presence on the ground in South Kyrgyzstan. Moscow's official pretext was concern about the growing drug trafficking dilemma. But Kyrgyzstan's neighbor in the Ferghana Valley, Uzbekistan was critical of Russia's interference in Central Asia from the start, suspecting that the Kremlin would use the regional divide for its own geopolitical agenda. The Uzbek government had been clear about its fears in 2009, a year prior to the devastating ethnic strife in South Kyrgyzstan.
Uzbekistan has still failed to normalize relations with its neighbors Kyrgyzstan and Tajikistan. Many regional observers meanwhile remain skeptical of the Ferghana Valley's conflict-prone interstate relations, which at times produce skirmishes and small-scale military confrontations on the borders. In the meantime, Moscow has been skillfully managing its relations with these republics, steadily transforming Kyrgyzstan into a client state.
Russia's actions in Kyrgyzstan are not dissimilar to its strategy in Ukraine. The propaganda campaign managed by Russian intelligence and directed at the Ukrainian government has been a regular occurrence in other post-Soviet states. The Kremlin leveraged its influence to remove the Kyrgyz regime in April 2010 and then later targeted uncooperative Kyrgyz political figures. In one case, the leader of the Ata-Meken (Fatherland) party was vilified by Russia's state-run NTV channel, after a hidden camera captured him in a tryst. In 2011, Russian intelligence was involved in falsely accusing another Kyrgyz opposition figure and leader of the southern Ata-Zhurt (Homeland) party, Kamchy Tashiyev, of running a drug trafficking organization in the country. Two years later, the same Moscow-based news source published a news report claiming that the Russian government had granted political asylum to the Tashiyev family after the Kyrgyz politician fell out with local authorities in Bishkek. The Russian embassy in Kyrgyzstan denied the claim, but Tashiyev has this year backed Russia's annexation of Crimea and Vladimir Putin's policy in Ukraine.
So involved has Russia been in Kyrgyz political affairs, that Kazakhstan and Uzbekistan now recoil at cooperating with Kyrgyzstan. In autocratic Central Asia, personal relations among the rulers is nearly always the best way to achieve win-win outcomes. Three carbon resource-rich states, Turkmenistan, Kazakhstan and Uzbekistan, have been somewhat successful in coordinating their regional policies over a broad range of issues, particularly toward Afghanistan and water disputes. Notably, Turkemnistan and Uzbekistan are suspicious of the Kremlin's regional approach. By contrast, Kyrgyzstan is moving into the embrace of Vladimir Putin,  for instance agreeing to join Eurasian Economic Union project.
Ultimately, the Kyrgyz leadership's missteps in choosing its friends has worsened its important relationship with Uzbekistan. As a result, Uzbek authorities cut a vital gas supply line to South Kyrgyzstan, complicating the border delimitation process in the Ferghana Valley triangle.
Ryskeldi Satke is a contributing writer with research institutions and news organizations in Central Asia, Turkey and the U.S. Contact e-mail: rsatke at gmail.com.