China Urges US to Accept North Korea's 'Olive Branch'
Beijing wants Washington to seriously consider recent peace overtures from North Korea.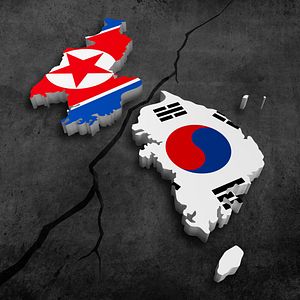 The U.S. should seriously consider offers of dialogue from North Korea in order to bring an end to decades of tension on the Korean peninsula, an op-ed in China's official news outlet argued on Friday. The Xinhua commentary urged Washington to take advantage of North Korea's "unusual willingness" to hold talk with both the U.S. and South Korea.
Analysts noted renewed outreach from North Korea to both Russia and Japan in 2014, possibly driven by uncertainty about support from China, the Kim regime's traditional backer. This year, the Xinhua commentary predicts, North Korea will expand its charm offensive to include the U.S. and South Korea. That idea is largely based on recent signs that North Korea is actively seeking to resume dialogue with both of those countries.
For one thing, Kim paid major attention to improving inter-Korean relations in his New Year's speech, in what Chung-in Moon, political science professor at Yonsei University, called a "noticeable shift." Kim suggested that a resumption of high-level talks was possible, up to and including a possible summit with South Korean President Park Geun-hye. Kim also floated the idea of a possible rapprochement in U.S.-DPRK relations, where Pyongyang places a temporary freeze on its nuclear tests in exchange for a halt to joint U.S.-South Korean military drills (a perennial source of angst for Pyongyang).
China, which had been growing increasingly frustrated with Pyongyang, offered its support for these proposals. "China maintains committed to realizing denuclearization and safeguarding peace and stability of the Korean Peninsula. We advocate and expect relevant parties to reach aforementioned goals through dialogue and consultation, and oppose any action that may escalate the tension," Foreign Ministry spokesperson Hong Lei said at a recent press conference.
South Korea has also responded positively, although cautiously. President Park urged North Korea to agree to resume talks and allow for another round of family reunions, bringing together Korean families separated by the Korean War. Park was also receptive to the idea of meeting Kim, saying in a New Year's press conference, "I can meet anyone if it contributes to paving the way for peaceful reunification of the Korean Peninsula." Park said talks could take place without any preconditions. She added, however, that Pyongyang would have to be sincerely committed to peace and denuclearization for talks to truly move forward. "[W]e cannot meet each other and talk about peaceful reunification when the North still wants to be nuclear-armed," Park explained.
The U.S., however, has not responded as positively. North Korea's offer to halt nuclear tests if the U.S. and South Korea stop their military drills was interpreted by Washington as a threat. A foreign ministry spokesperson called the suggestion "inappropriate." Under the Obama administration, the U.S. has generally refused to engage North Korea, even in dialogue, without receiving some tangible sign of sincerity from Pyongyang — a lesson learned from the fruitless six-party talks held largely during the Bush administration.
Despite these public refusals, John Delury of Yonsei University says it's possible Washington is engaging with North Korea behind the scenes, with the goal of reaching acceptable conditions for talks. However, the timing for such talks isn't great, as the U.S. just slapped additional sanctions on Pyongyang in response to its alleged involvement in a cyberattack against Sony Pictures.
China in particular has reacted with frustration to what it sees as U.S. recalcitrance vis-à-vis North Korea. The Xinhua commentary notes that the U.S. will have a major influence on whether inter-Korean talks can resume and needs to use that power wisely. Instead, the piece says, "The U.S. response to Pyongyang has been negative and disappointing." Xinhua has high hopes for peace on the Korean peninsula should the U.S. agree to North Korea's condition that joint military drills be suspended.
A similar commentary in China's Global Times argues that the U.S. decision to reject North Korea's offer is "especially regrettable and counterproductive." Author Deng Yushan writes, "Whatever concerns the U.S. has in mind, Pyongyang's offer merits due consideration. Washington should abandon its parochial interests and revisit its decision, helping build on the positive momentum rather than arresting it." After all, Deng points out, deep distrust between North Korea and the U.S. is a major cause of the current tensions on the Korean Peninsula.
For China, the glimmer of hope for a thaw in inter-Korean tensions is especially attractive. For geopolitical reasons, Beijing has found itself more or less stuck supporting to Kim regime, but Chinese leaders have been far from pleased with North Korea's actions of late. China's ultimate goal is for North Korea to follow in its own footsteps — liberating its economy as a means of stabilizing the country (and, incidentally, providing major opportunities for Chinese businesses). Beijing also hopes Pyongyang can rehabilitate its image by opening its doors for business, saving China the embarrassment of being associated with an international pariah.
Kim's proposals are being read as a signal that he is indeed interested in taking steps down this path. Xinhua argued that North Korea's proposals are sincere because the country "needs a peaceful external environment" to turn its attention to economic development. That the U.S. is blocking this process is a source of major frustration for China.