China's Uyghurs and Islamic State
Chinese media report that a group of Uyghurs was arrested on suspicion of trying to join the global terror network.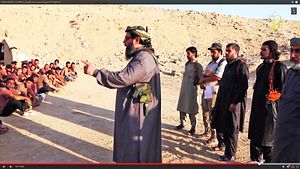 A report from China's Global Times (picked up and summarized by Reuters) says that China has arrested 10 Turkish nationals in Shanghai for their role in assisting ethnic Uyghurs in illegally leaving China. According to Global Times, the Uyghurs intended to use fake Turkish passports to travel to Syria, Afghanistan, and Pakistan to fight alongside Islamist militants.
Foreign Ministry spokesperson Hong Lei did not directly confirm the story, but told journalists that the Chinese media report "has gone into great details… I have nothing new to add." Hong did elaborate a bit on China's general position on the issue, saying that "cracking down on illegal immigration is an aspiration shared by the international community, and also the persistent stance taken by the Chinese government."
Interestingly, Hong made no mention of the reported connection with terrorism, which is a major focus of the Global Times story. The piece opens by saying that in November 2014, authorities in Shanghai uncovered a organization of Turkish nationals that provided "Chinese terrorists" with false Turkish passports that could then be used to illegally leave the country. Each fake passport cost 60,000 RMB ($9,680), according to the report.
In addition to the 10 Turkish nationals, Shanghai authorities arrested nine Uyghurs from Xinjiang who planned to use the fake passports and two Chinese citizens who assisted with the illegal immigration scheme. Shanghai authorities have arrested the Uyghurs on suspicion of "organizing, leading, and taking part in terrorist organizations" and are conducting an investigation. Officials said that they had discovered video materials related to terrorism in the possession of the suspects, and that the suspects were planning to travel to Syria, Afghanistan, and Pakistan – implying that the suspects wanted to join terrorist organizations in those countries, notably Islamic State, which has operations in all three.
As the Global Times piece notes, Beijing is concerned about Uyghurs leaving China to take part in jihad elsewhere in the world – and potentially returning to China to carry out terrorist activities. Global Times estimated in December that there are around 300 Chinese nationals fighting for Islamic State (IS). At the time, Global Times noted that many Chinese travel to Turkey before heading to Syria, suggesting a connection between Turkey and Uyghurs wishing to join global jihad. Chinese officials and media alike tied last year's deadly uptick in terrorist attacks on Chinese soil to increasing collaboration between local terror groups (notably the East Turkestan Islamic Movement or ETIM) and international organizations like Al Qaeda.
In response, China has moved to sever connections between Chinese Uyghurs and foreign extremists — both physically and virtually. As part of the year-long "crackdown on terrorism" that began last May, Beijing is drumming up awareness about the danger of online propaganda from terrorist groups like IS and punishing any Chinese citizens who shares such material.
China is not alone in cracking down on would-be IS recruits. As my colleague Prashanth noted yesterday for ASEAN Beat, Malaysia has been especially active in trying to prevent would-be jihadists from making it to Syria and Iraq. The campaign seems to have had some success, as a IS recruiter recently posted an online warning telling potential recruits not to transit through Malaysia (interestingly, he also warned against traveling via Turkey).
However, human rights groups argue that Uyghurs illegally emigrating from China are not doing so to join global jihad, but to escape oppression in their homeland. Beijing aggressively pursues both types of illegal immigrants, blurring the line between would-be jihadists and would-be refugees. Last year, nearly 200 refugees from Xinjiang were discovered at a human trafficking camp in Thailand. China demanded the Uyghurs, including roughly 100 children, be repatriated. Turkey, which hosts a large ethnic Uyghur population, offered to provide homes for the refugees – much to Beijing's displeasure.  "We urge the relevant country to immediately stop meddling in placement work for the relevant case, be cautious with words and actions and not send out mistaken signals that connive in, and even support, illegal immigration activities," a foreign ministry spokesperson told Reuters.