Maldives Defense Minister Fired After Nighttime Raid
Defense Minister Mohamed Nazim was sacked after police carried out a nighttime raid at his house and found "lethal weapons."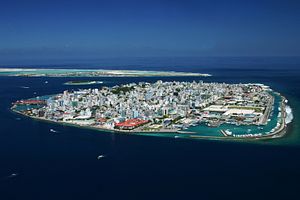 The Maldives' President Abdulla Yameen announced that his defense minister, Mohamed Nazim, had been fired following a nighttime raid carried out at the defense minister's house by Maldivian police on Sunday morning. The government has not announced any specific reason for the defense minister's firing.  "President Abdulla Yameen has today dismissed … Col Mohamed Nazim from the post of minister of defense and national security," the president's office noted in a statement released on Tuesday. The statement announced a successor for the defense minister position; retired army general, Moosa Ali Jaleel, will take over the position.
According to Defense News, "police were seen taking away unspecified documents during a raid early on Sunday" at the defense minister's home. Reportedly, the raid was initiated on suspicions that the defense minister was "harboring weapons and explosives." The minister's sacking could have been related to political infighting, though this remains ambiguous. Nazim did play a role in ousting the small island state's first democratically elected leader, Mohamed Nasheed, in 2012. Nasheed stepped down as president after widespread protests in which the military and police forces backed opposition demonstrators. Nasheed claimed that he'd been ousted in a coup d'état at "gunpoint." An investigation later that year denied the former president's claim of a coup.
Nazim, who spoke with the press after being dismissed, noted that the police raid against his home was entirely inappropriate and unwarranted. "In which country of the world do police kick down the door to a defense minister's home and proceed to destroy all doors and conduct a raid at 3:30 am while the defense minister is asleep," noted Nazim, as quoted by a local news agency. He vowed to remain involved in politics and to begin working with the opposition to undermine the current government. Maldivian police noted that "lethal weapons" had been confiscated from the defense minister's home and that Nazim refused to cooperate with their investigation.
Nazim's firing comes shortly after the Maldives made international headlines in late-December 2014 after a fire at the water sewage treatment plant in the country's capital of Malé  left 100,000 without access to safe drinking water. The country declared a state of crisis and sought help from regional states including India, Sri Lanka, and China. Nazim was in charge of a task force of ministers that assembled in the wake of the water crisis. He was primarily in charge of coordinating international and local assistance and maintaining the newly established Malé Water Crisis Management Fund. The raid on the defense minister's home and his subsequent firing came just two weeks after the government noted that the country's cabinet was "as united as ever."