Mutual Economic Reforms Can Rejuvenate Indo-US ties
For a true U.S.-India rapprochement, the two countries will have to reduce trade barriers and strengthen overall economic ties.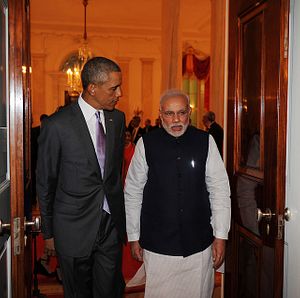 When U.S. President Barack Obama visits India to attend its Republic Day on January 26, he should propose a mutual reduction of economic barriers to rejuvenate the sputtering Indo-U.S. economic partnership.
U.S. corporations became a major foreign policy lobby for India after it embarked on economic reforms in the 1990s, creating a booming economic partnership. That ended when India stopped liberalizing after the Great Recession. Earlier, many Fortune 500 companies had set up shop in India. But after 2008, investment and trade flows decelerated sharply, and protectionist tendencies rose in both countries.
Obama should view energy as holding the greatest potential for the partnership. India is a major importer of oil and gas, and the U.S. is set (thanks to fracking) to become the world's largest oil and gas producer. However, its liquefied natural gas (LNG) exports are limited to countries that have signed free trade agreements with the U.S., and India hasn't. This has no economic logic. As a special case, India has been allowed limited LNG purchases from the proposed Cheniere terminal. The U.S. should drop the FTA clause, or at least greatly liberalize exceptions for countries like India.
The U.S. bans the export of unprocessed crude. This is dubious nationalism. The U.S. lacks the refining capacity to process all its sweet crude, but India has it. India is already buying U.S. natural gas liquids, and would be interested in U.S. crude as well.
The Indo-U.S. nuclear deal in 2005 was supposed to usher in a nuclear power boom in India. However, because of memories of the 1984 Bhopal gas disaster, Indian legislators insisted on an unlimited liability clause to sue foreign suppliers in the event of an accident. Foreign suppliers find this clause too risky, so deals have stalled. The U.S. should work with India on devising an insurance policy suppliers can buy from an Indian government company, capping their risk. This will also help kick-start reactors supplied by France and Japan.
Prime Minister Narendra Modi wants India to set up 100,000 MW of solar power capacity by 2030. However, the U.S. has taken India to a WTO dispute panel over its local content requirements. As the chief minister of Gujarat from 2002-14, Modi instituted international bidding for the state's solar projects, with no local content rules. He should do the same at the national level. Gujarat's Adani group has just announced a deal with SunEdison to invest $4 billion in possibly the world's biggest solar panel factory. The creation of globally competitive plants is the way to go, not local content rules.
India's software industry complains that the U.S. Border Security Act of 2010 imposes a penal visa fee on visiting software engineers if over half the company's workers are non-American. This provision was scheduled to expire in September 2014, but was extended to September 2015. Modi will seek—and should get—an assurance that this discriminatory provision will not be extended further.
Furthermore, India is a major purchaser of U.S. arms, and is the world's biggest arms importer. It has traditionally limited defense production to government companies. Modi seeks private participation, and has allowed foreign direct investment up to 49 percent in defense production, without management control. On this basis, India will never get world-class investments. It should allow investments by foreign-controlled investors: this will surely be better than simply importing arms, as is the case now.
U.S. drug companies complain of lax Indian patent rules, of compulsory licensing of patented drugs, and of price controls (India expanded the controlled list by 52 drugs in December). India's commitment to affordable medicines is too strong to be dented by U.S. pressure. However, U.S. companies are keen on acquiring Indian drug companies–Abbot Labs acquired Piramal Healthcare for $3.7 b and Mylan Inc acquired Agila Specialties for $ 1.6 billion. The U.S. Food and Drug Administration has banned imports from several Indian facilities citing a lack of safe procedures, yet India supplies almost 40 percent of U.S. imports of generic drugs. So, the partnership is much stronger than the patents row may indicate.
Modi wants U.S. companies to participate in his "Make in India" drive to push up the share of manufacturing from 13 percent to 25 percent of GDP. He promises "red carpet, not red tape." But this requires a major overhaul of India's rules and regulations. The World Bank's Doing Business Index ranks India at 142nd of 189 countries in ease of doing business. Modi promises an overhaul of regulations to take India to the 50th position on this list. That is a move in the right direction. The faster he delivers, the more he will strengthen Indo-U.S. economic ties.
The author is a Research Fellow at the center for Center for Global Liberty and Prosperity at the Cato Institute.