Obama's Mixed Signals to India and Pakistan
The U.S. is starting 2015 with both a presidential trip to India and the approval of civilian aid for Pakistan.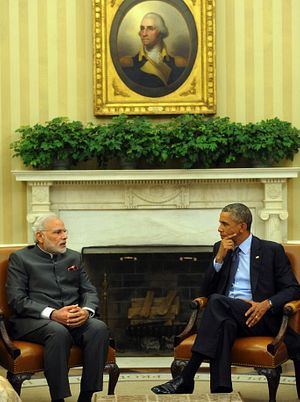 The United States' diplomacy with India and Pakistan is off to an interesting start in 2015. In a move that is likely to raise eyebrows in India, U.S. Secretary of State John Kerry will visit Pakistan this month after certifying the Pakistani government has taken "action against" anti-India terror groups Laskhar-e-Taiba (LeT) and Jaish-e-Mohammad (JeM). The authorization will allow the United States to deliver civilian aid to Pakistan under the Kerry-Lugar bill (otherwise known as the Enhanced Partnership with Pakistan Act of 2009). Meanwhile, India is gearing up to receive U.S. President Barack Obama later this month as the chief guest for the country's Republic Day celebrations. Obama's visit to India comes after Indian Prime Minister Narendra Modi's successful whirlwind tour of the United States in September 2014 and is expected to bring the two countries closer together.
The coincidence of these two visits continues to highlight the ongoing confusion in U.S. policy toward India and Pakistan. In a similar unfortunate coincidence, the United States announced that Pakistan would receive 160 leftover mine-resistant ambush protected (MRAP) vehicles worth $198 million right before Indian Prime Minister Narendra Modi's scheduled U.S. visit.
While the United States and Pakistan face an increasingly difficult partnership, there is considerable bipartisan support in the United States for closer relations with India. India's previous Congress-led coalition government had trouble creating sustainable rapprochement with the United States on strategic issues. With the exception of the 2006 civil nuclear cooperation deal and limited maritime cooperation, the U.S.-India bilateral relationship remained under-capitalized. The ascent of Narendra Modi and the BJP in India represents an opening for the United States.
The United States' aid relationship with Pakistan may cause a disproportionately negative Indian response given that relations between India and Pakistan took a nose-dive in the latter half of 2014. Indeed given that the founders of both LeT and JeM have successfully held public rallies in Pakistan in 2014, the U.S. certification that Pakistan has taken "action" against these groups may seem disingenuous to India. This will be doubly so because Section 203 of the Kerry-Lugar bill requires Pakistan to have "ceased support" to extremist and terror groups and to have "prevented" them from using Pakistani soil as their base of operations. While the Kerry-Lugar bill expired in 2014, only part of the allocated aid was disbursed last year.
It'll be fascinating to see whether Modi brings up the issue of the United States' continuing support for Pakistan later this month when the two leaders hold talks. Right now, the planned agenda for the Modi-Obama talks later this month is expected to include energy, defense, trade, investment, and possibly climate change.