Post 'Occupy,' Hong Kong Government Consolidates Control
Hong Kong's government is pushing ahead with Beijing's election plan while pursuing legal action against protestors.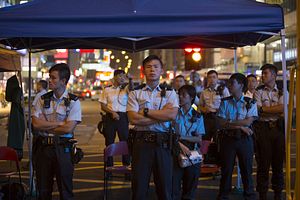 The mass protests in Hong Kong, partially under the aegis of the "Occupy Central" movement, began on September 28, 2014, when thousands of students and other protesters set up camp in Admiralty, Mong Kok, and other areas of Hong Kong. Their mission: to protest Beijing's plan for the 2017 chief executive election, which critics argue would restrict nominations to a small group of candidates hand-picked by the Chinese Communist Party. The protests attracted tens of thousands of people at the onset but slowly dwindled over the next two months. When Hong Kong police finally cleared out the major protest sites in mid-December,democracy activists vowed to regroup and continue their efforts.
Less than a month after the protests came to an end, the consequences are beginning to unfold. For one, police began strictly patrolling former protest areas, refusing to allow any signs of support for the movement (whether sidewalk drawings or posters) to reappear. In one particularly egregious case, a 14-year-old girl was arrested for drawing chalk flowers on the so-called "Lennon Wall," a wall outside the Central Government Offices that was covered in post-it notes during the protests.
Hong Kong is pursuing legal action against protesters as well. Over 30 protest leaders, including the Occupy Central founders, student leader Joshua Wong, and media mogul Jimmy Lai, have been told to report to police headquarters for arrest on charges of unlawful assembly. Early indications suggest at least two student leaders (Lester Shum and Joshua Wong) will be charged with contempt of court. A government prosecutor said the protesters had violated an injunction requiring them to stay away from protest sites, and in so doing had "damaged the administration of justice."
Meanwhile, the second round of public consultations on the controversial election plan began in January. During the protests, the Hong Kong government held out these consultations as an olive branch, assuring protesters there would be a proper, official channel for their concerns to be factored into the final election reform plan. However, the Hong Kong government is standing firm to its view that certain parts of the bill – the most controversial parts – are not up for discussion. Government sources told South China Morning Post that the debate would focus on technical details rather than the nomination and election process recommended by the NPSC.
Chief Secretary Carrie Lam, Hong Kong's second-highest official, told lawmakers that the final electoral reforms must be based on the National People's Congress Standing Committee decision, which calls for candidates to be nominated by an election committee. Attempting to circumvent the NPSC decision, Lam said, "would only be futile and impractical." Pro-democracy lawmakers, who have threatened to veto any election reform bill that matches the NPSC decision, walked out before Lam's remarks, carrying yellow umbrellas in a sign of solidarity with the protestors. Unless at least four pan-democrat lawmakers break ranks and vote to pass the bill, it will die in the Legislative Council later this spring.
During the protests, Hong Kong government promised to submit a report on the protest movement to Beijing's State Council, supposedly as a concession to the pro-democracy activists. The report was indeed sent out, but the document only served to highlight the massive gulf that remains between the two camps. The report concluded that reforming Hong Kong's electoral process "strictly in accordance with the Basic Law and the relevant interpretation and decisions of the NPCSC" is "the common aspiration" of Hong Kong's government and its people. The report also tried to emphasize a lack of public support for the movement, leaving out estimates of the number of protesters (which may have involved over 1 million people) and focusing on "widespread concern in the community" about the protests.
Against this backdrop, there are signs that Beijing will seek to further consolidate its ideological control over Hong Kong in the near future. Chen Zuo'er, who formerly worked as a deputy director of the State Council's Hong Kong and Macao Affairs Office, said that Hong Kong would need to reform its education policies, given that many of the Occupy protestors were students. Many people have a distinct lack of national democratic and civic awareness, life goals, and knowledge in geography, history and culture," South China Morning Post quoted Chen as saying.
Beijing tried to push Hong Kong to institute mandatory "moral and national education" in its schools back in 2012. Mass protests by Hongkongers, who denounced the classes as a form a brainwashing, forced the government to scrap the plan. The large number of students among the Occupy Central protestors will likely inspire Beijing to try again to instill a sense of national pride (and CCP loyalty) in Hong Kong's youths. One Basic Law Committee member, Rao Geping, has already suggested Hong Kong revisit the idea of national education. Such a move, however, is likely to spark renewed protests in a city where political tensions are already running high.