Hong Kong's 'Occupy Central' Draws to a Close
Hong Kong police cleared out the central protest site at Admiralty, essentially ending two months of student protests.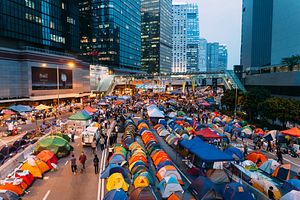 The center of Hong Kong's protests fell today, with police clearing Admiralty of the protesters, tents, and artwork that had occupied the area since late September. Police gave advance notice of the operation, which began on Thursday morning. After police clearances of Mong Kok and Admiralty, all that remains of the protests is a smaller site at Causeway Bay.
Unlike clearances at Mong Kok, which resulted in a number of violent clashes, the operation in Admiralty progressed peacefully. A little after 9 p.m. on Thursday, Admiralty – originally the main protest site – had been cleared of protesters by police. After police, who were followed by dump trucks, cleared out the tent camps, the main roads began to open for traffic for the first time since late September.
209 protesters who refused to leave the site were arrested by police as the clean-up operation progressed. Among the arrested were Jimmy Lai, founder of Next Media, Democratic Party founder and chairman Martin Lee, and several members of Hong Kong's Civic Party. Frank Langfitt of NPR, who was at the scene, said the protesters had waited patiently to be arrested in a display of "classic civil disobedience."  According to Lester Shum, spokesperson for the Hong Kong Federation of Students, nine members of that group (including leader Alex Chow) were also arrested for illegal assembly and obstructing police officers.
Shum acknowledged that the current round of protests had come to an end, but promised more action in the future, particularly during the next round of public consultation on Hong Kong's electoral reform. "In the short run, the Federation [Hong Kong Federation of Students] would not appeal for people to re-occupy Admiralty. We need to wait for an appropriate time to consolidate the power of Hongkongers to pressure the government," Shum said, according to South China Morning Post.
As the Wall Street Journal noted, the Hong Kong government has signalled it will be more willing to talk with students once the protests end. While there's no chance Beijing will be willing to allow a direct nomination process for candidates seeking to run for chief executive, there is some room for compromise on the membership of the nominating committee. The Hong Kong government has consistently argued that the draft released by the mainland's National People's Standing Congress in August remains the blueprint for 2017 elections and will not undergo major changes. However, Chief Secretary Carrie Lam held out hope for incremental reforms before the 2022 chief executive elections in comments made during the sole round of talks between Hong Kong's government and student protest leaders.
Meanwhile, pan-democrat lawmakers have threatened to veto any bill on electoral reform that hews closely to the draft proposed by the NPSC. The bill needs two-thirds approval to pass, meaning Hong Kong's government would have to convince at least four pan-democrat legislators to vote for the proposal. Should the electoral reform bill fail to pass in the Legislative Council, Hong Kong's next chief executive would again be selected by a 1,200 person committee rather than by popular vote. Hong Kong's government have argued that vetoing the proposal would be a set-back for universal suffrage in the special administrative region; pan-democrats counter that approving the current proposal would imply they accept Beijing's proposal as adequate.
The current round of protests is all but over, with little to show for the protesters' efforts. The political deadlock remains and protest leaders are already mulling additional actions to advance their cause. Though the protests didn't win any concessions, either from Hong Kong or Beijing, many protesters were encouraged simply by the number of people who turned out to show their disapproval. "The biggest success of the protests is that people are awakened," said Alex Chow of HKFS. "The young generation will be the engine of reform."