China-Thailand Submarine Deal in the Headlines with Keel-Laying Ceremony
The development marked another incremental inroad in the agreement.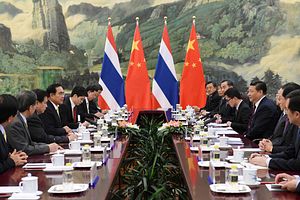 Earlier this month, a keel-laying ceremony was held in China for the first submarine ordered by Thailand in a landmark deal that initially made the headlines back in mid-2015. Though this is just one development within the wider agreement, it nonetheless marks yet another incremental inroad in the China-Thailand submarine deal.
As I have observed previously in these pages and elsewhere, back in 2015, the Royal Thai Navy (RTN) had initially elected to buy three submarines from China in what would amount to one of the most expensive single acquisitions in the country's history. While the deal had generated controversy regarding what this meant for China's security inroads in the region and future of the U.S.-Thailand alliance, it has in fact proceeded much slower than anticipated. The RTN had subsequently inked a contract with the China Shipbuilding and Offshore International Corporation (CSOC) for one S26T diesel-electric submarine, with the contract being worth 13.5 billion baht ($430 million) and the boat set to be delivered by 2023, and orders for another two expected by 2021 or 2022, with payments to China set to continue until 2027.
Since then, while there has been little publicly released on the state of the overall deal, we have seen incremental roads being made. That has continued on over the past year or so. Last September, in one notable move following the deal, both sides held a steel-cutting ceremony for the first submarine at China's Wuchang Shipbuilding, with some RTN officials in attendance there as well. And earlier this year, indications have been that the submarine purchase has factored into Thailand's future defense planning over the next few years, including the budget for 2020.
Earlier this month, the deal was in the headlines again with further progress on the first submarine. China's Wuchang Shipbuilding laid down the keel for the RTN's first submarine in a move that came just about a year after the steel-cutting ceremony last September.
The development, reported following images of the ceremony released on social media, occurred on September 5 in Wuhan, China. The event was reportedly attended by officials from the RTN as well as from the People's Liberation Army (PLA), even though there were no details were disclosed about the specific names of those present and the engagements therein.
As with some of the previous inroads we have seen on the deal, few new and additional specifics were disclosed by either side. Nonetheless, these developments will continue to be important to monitor in the upcoming months and years to get a better sense for how the landmark agreement is actually translating into reality.