Cambodia: A Tale of Two Outbreaks
A tragic HIV outbreak in rural Cambodia has received scant attention.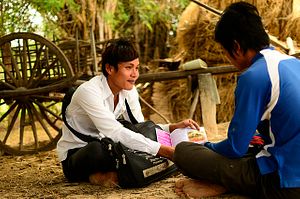 The HIV outbreak in a small village in the Cambodian countryside continues to grow. But the plight of the victims and their families has gone largely ignored with this country's leaders doing little to help 226 people inflicted so far with the virus that causes AIDS.
The international media and NGO workers have also been relatively silent, particularly when compared with the world health response to the Ebola outbreak in Africa where experimental vaccines are going on trial.
Obviously, the Ebola outbreak has been a far greater tragedy. More than 8,500 people have died, mostly in Guinea, Liberia and Sierra Leone, although this is down on the 10,000 deaths that had been widely expected by the end of last year.
The scientific community was not immune to criticism in Africa amid complaints by African governments and local health workers that the world health authorities were doing too little too late. Eventually two drug companies were deployed and are producing two vaccines which the international community is expected to stockpile.
In Cambodia, the initial government response was to dismiss the positive HIV tests as the result of faulty equipment. More than two months after the first cases were reported the Health Minister Mam Bunheng still can't say whether he will create a special budget to support Roka commune near Battambang.
The request was made by the National Assembly's public health commission.
Yem Chroeum, an unlicensed village doctor, has been blamed for causing the potentially deadly outbreak through the use of dirty needles. He had escaped the attention of Mam Bunheng's ministry and practiced for more than 20 years.
He is in jail on murder charges.
Asked why Yem Chroeum was allowed to practice for so long, Bunheng said: "I did not receive documents from the lower levels … If we knew him, we would have taken measures to address this problem.
"We are taking measures to review private [health] services and unlicensed doctors and to encourage people to use the public health system," he told reporters.
That is unlikely to impress an electorate that is growing tired of the ruling Cambodian People's Party (CPP) and its long-serving prime minister Hun Sen who was returned to power but with a sharply reduced majority at national elections in 2013.
His response has not been to address the social issues which many believe are the cause of the CPP's dwindling political fortunes – issues that range from bureaucratic corruption to the high costs associated with health and education. Instead, Hun Sen has moved to shore- up his power base within the party, promoting his three sons – Manet, Manith and Many – into the ranks of the CPP central committee at a three-day CPP National Congress last weekend.
His children were not alone. Also named for a push up the ranks was Say Sam Al, son of CPP secretary-general and acting Senate President Say Chhum.
The promotions were widely interpreted as the CPP finally acting on calls for a more youthful look, with half of this country's population under the age of 30. There were also reports of factional brawling within the ranks over the party's direction. But the reality was just another fine example of political style over substance.
Surely, the HIV outbreak in Roka must rank among the biggest domestic issues to afflict this country in recent years. It is certainly a leadership test for Hun Sen and his health minister but no one at the National Congress can remember even a word being mentioned about the villagers of Roka.
Among the latest dispatches from the impoverished commune, a 73-year-old woman and a seven-month-old baby girl who tested positive for HIV have died in recent weeks, with doctors predicting tuberculosis would pose the greatest of problems among the infected patients.
Luke Hunt can be followed on Twitter @lukeanthonyhunt