Pakistan May Face a Water Shortage
Pakistan's Federal Minister for Water and Power warns that the country could face a water shortage.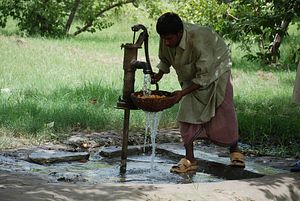 Following a blackout that left 80 percent of the country in total darkness and an attack by Baloch rebels, Pakistan now could face a major water shortage. Pakistan's Federal Minister for Water and Power Khawaja Asif has said that a water shortage is imminent in Pakistan. Asif delivered his remarks to a seminar in Lahore.
If the minister's predictions prove true, criticism of Prime Minister Nawaz Sharif's government would likely intensify. Prior to January's blackout, the Sharif government deal with a major fuel shortage in Pakistan despite plummeting global oil prices. The crisis forced Sharif to cancel planned international travel to deal with the domestic fallout of the fuel shortage.
In addition to his warnings about an impending water crisis, Asif issued reassurances that the government would successfully address the country's current power shortage issues. Currently, major cities including Rawalpindi and Lahore face major power outages daily. In some cases, these outages last over 12 hours a day. Asif, however, seemed to shift part of the blame to energy use patterns in the country: "As citizens of Pakistan, we are in a habit of wasting energy," Asif told the seminar.
A water shortage is probably the last thing the Sharif government needs at this point. The recent fuel shortage and power blackout, though caused by different factors, have put Pakistan's infrastructure capacity gaps on display. As I noted in the wake of January's historic blackout, energy and utility-related fumbles could intensify public criticism against the Pakistani government. Over at War On the Rocks, Michael Kugelman makes a similar argument, highlighting the dangerous challenge energy and utility issues pose for the government:
Pakistan's energy insecurity is deeply destabilizing—and not just because militants prey on fragile infrastructure. Streets often swell with angry protestors railing against power outages. They have blocked roads, and attacked the homes and offices of members of Pakistan's major political parties.
Indeed, a protracted water shortage could be the final straw for many Pakistanis who have yet to take to the streets against the government. Though the Pakistani government understands the severity of the country's acute infrastructure problems, there seems to be no easy short-term solution. The government's desperate attempts at addressing energy and utility shortages — including banning "all-night wedding parties" and "neon signs and brightly-lit billboards" — will only further frustrate the population.
Nawaz Sharif was elected prime minister in Pakistan's first successful democratic transfer of power in May 2013. Since then, his government has faced numerous domestic difficulties. Opposition leaders, including Imran Khan of Pakistan Tehreek-e-Insaaf, initiated widespread national protests against the government last year arguing that Sharif won the 2013 general election through illegitimate means.