Questions Remain Over Chinese Involvement in Myanmar Violence
Accusations of Chinese interference in the ethnic conflict continue to plague China-Myanmar relations.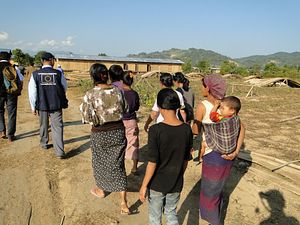 Violent clashes between government troops and ethnic rebels have continued unabated in Myanmar's northern Shan state since February 9. The fighting, which pits the Myanmar National Democratic Alliance Army (MNDAA) of the Kokang ethnic group against the national army, has sparked accusations that China has a hand in the conflict (the Kokang are ethnically Chinese). Beijing has repeatedly denied any involvement, as have MNDAA sources and even some Myanmar government officials — but the accusations keep coming nonetheless.
The suspicion is partially based on historical factors. The MNDAA was originally affiliated with the Communist Party of Burma (CPB), a guerrilla force that enjoyed support from the Chinese government. The CPB dissolved in 1989 and several of its splinter groups (including the MNDAA) signed a cease-fire agreement with the government. That cease-fire fell apart in 2009 during a government push into MNDAA-controlled territory; many analysts believe the current violence is an attempt by the MNDAA to regain control of areas it lost in 2009. Because China once supported the CPB, some believe it is continuing to support that group's successor, the MNDAA.
Adding to the intrigue, MNDAA commander Peng Jiasheng left the Kokang region following the fighting in 2009. His return this month is believed to have sparked the new round of fighting. No one is exactly sure where Peng was in the intervening five years – by his own account, given in various interviews, he spent time in China and in various Southeast Asian countries. On theory has it that Peng spent most of that time in China, which has led to the conspiracy theory that the Chinese government (or simply local authorities) sent him back into Myanmar to stir up trouble. This is far from certain — other reports have it that Peng instead fled in 2009 to territory controlled by the Wa, another ethnic group in northern Myanmar, and is now receiving aid from the United Wa State Army.
There's no clear evidence that the Chinese government is working behind the scenes in the current conflict, but that hasn't stopped some Myanmar army officers from making the accusation. The Irrawaddy cites Lt. Gen. Myat Htun Oo as saying that "Chinese mercenaries" are fighting with the MNDAA. Myanmar's state-backed newspaper, the Global New Light of Myanmar, has also reported that the rebels are using Chinese-made weapons. Other Myanmar officials are adamant that China is not involved — according to The Irrawaddy, Minister Aung Min, head of Myanmar's Union Peace Working Committee, explicitly stated that China is not responsible for the recent violence. Aung Min also told RFA that it is "impossible that China is involved in this fighting… But Kokang people who live in China might be involved."
As Aung Min notes, the presence of Chinese-made weapons or even Chinese mercenaries in the conflict zone does not suggest that the Chinese government itself is playing a role in the conflict. Local citizens sympathetic to the cause could simply be taking matters into their own hands. Radio Free Asia reports that local Chinese citizens have been trying to send food and medical supplies across the border, but that local authorities frown upon those efforts. "A lot of places got into a lot of trouble when the authorities found out they were doing this," a source told RFA. Despite local government efforts, the source said, shipments continue "through secret channels."
Chinese officials have been adamant that China is playing no role in the conflict. China "respects the sovereignty and territorial integrity of Myanmar and forbids any organization and individual conducting activities that undermine China-Myanmar relations or stability of the border area," Foreign Ministry spokesman Hong Lei said on Wednesday. Hong added that local Chinese authorities "have stepped up control of the border area." An official at the Chinese embassy in Myanmar told Xinhua that China's only involvement has been caring for the refugees fleeing to China.
Rebel leaders with MNDAA have also denied any Chinese involvement. In an interview with China's Global Times, Peng Jiasheng said that "the Kokang side has strictly forbidden Chinese citizens from entering Kokang to join the MNDAA" since 2009. Peng attributed this policy to "enormous pressure" from "Chinese law enforcement agencies" who want to prevent Chinese citizens from taking part in the fighting.
It's hard to see what China gains from increased violence along the Myanmar border, aside from a massive headache. Certainly instability along the border, a region already known for organized crime and drug smuggling, is not in China's best interests, nor is the current flood of tens of thousands of refugees. On the other hand, Myanmar's military has a clear interest in pointing the finger at China. For one thing, it delegitimizes the rebels by painting them as in collusion with foreigners (a tactic China itself is fond of using). The theory of Chinese backing for the MNDAA also help provides an excuse as to why the national army is having such a hard time combating a group of ethnic rebels.