US May Base Warships in Australia
Washington is eying ways to expand its military presence there.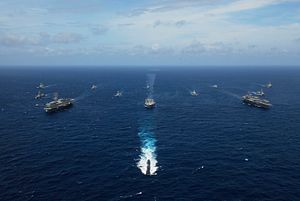 The United States is mulling a plan to regularly dock warships in Australia, the navy's top commander said yesterday according to The Wall Street Journal.
During a visit to Australia to inspect port facilities, U.S. Chief of Navy Operations Jonathan Greenert said that basing U.S. ships there was one of several measures being considered by Washington as part of a broader look into how to expand maritime cooperation between the two allies.
"We're doing a study…to see what might be feasible for naval cooperation in and around Australia, which might include basing ships," The Journal quoted Greenert as saying at a university lecture.
According to The Journal, Greenert revealed that the United States had been looking at various bases and ports and has identified warships to form an Amphibious Ready Group to support a Marine Air Ground Task Force, including a large amphibious assault carrier and two smaller helicopter carriers. Their regular presence could require the expansion of existing port facilities.
Greenert was careful to point out that such plans were very much "in the early stages" and that any measure would consider how it fits "into the two nations' strategic desires." A spokesman for Greenert also later clarified that any such enhanced naval presence would be rotational rather than permanent, which The Journal included in an updated version of its initial report.
In a speech in Hawaii before heading to Australia, Greenert had said he was going to examine the country's ports "to see what that's like" as the navy expects to deploy amphibious ships by the end of the decade. The growing U.S. presence would come amid ongoing efforts to eventually station 2,500 marines in Darwin, which were initially announced by U.S. President Barack Obama in November 2011 as part of his administration's 'rebalance' to the Asia-Pacific.
According to The Journal, Greenert also said that he supported the expansion of the annual Malabar exercises involving the United States and India to include Japan and Australia. Washington and New Delhi had both reiterated their commitment to "upgrading" the exercises during Obama's meeting with Prime Minister Narendra Modi last month, but China has previously balked at past attempts to expand them.
"Multilateral works best," Greenert said. "It's an amazing deterrent. If somebody figures they are going to take on one of you, there is some likelihood they may be taking on all four of you. That tends to hold folks back," he added.