After Myanmar Bombing, China Deploys Jets, Warns of 'Resolute Measures'
A senior Chinese general has warned Myanmar of military consequences for its actions.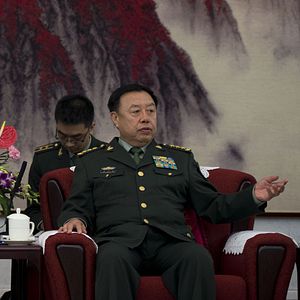 On Friday, Chinese media confirmed that air strikes conducted by the Myanmar Air Force, purportedly in their efforts to suppress ethnic Chinese Kokang rebels in the country's northeast, mistakenly struck a sugarcane field across the border in China's Yunnan province, killing four and wounding an additional nine. The incident represents the most serious cross-border escalation of Myanmar's internal crisis and has drawn a sharp reaction from China, which warned Myanmar as early as last Tuesday to ensure that no bombs cross the border. On Saturday, members of the Chinese People's Liberation Army establishment chimed in with their views on the situation. As expected, senior PLA officials were outraged and expressed, in no uncertain terms, the need for Myanmar to treat this situation seriously.
General Fan Changlong, vice chairman of China's Central Military Commission (CMC), China's apex military leadership body, told Min Aung Hlaing, the commander-in-chief of Myanmar's armed forces, that the situation was entirely unacceptable and that Myanmar ought to "seriously control" its military. Fan additionally told the Burmese commander that such an incident could never be allowed to take place again. Beyond his condemnation of the Myanmar armed forces, Fan continued and issued a warning, noting that should Chinese civilians face harm as a result of Myanmar armed forces' actions, the "Chinese military will take resolute measures to protect the safety of Chinese people and their assets."
This is a remarkable statement from the vice chairman of the CMC, and suggests that the People's Liberation Army could move to take kinetic military action against Myanmar, a country that has had relatively close relations with China over the past decade. Fan additionally called for the government of Myanmar to appropriately investigate the incident and provide compensation to the families of the deceased. Fan also notes that PLA Air Force (PLAAF) jets had been dispatched the China-Myanmar border to "track, monitor, warn and chase away" Myanmar jets.
The fighting in northeastern Myanmar is beginning to spiral out of control for China. Last week, over 30,000 Myanmar citizens, most ethnically Chinese, crossed the border into Yunnan, seeking refuge from the fighting. The Myanmar government has additionally accused China of providing covert intelligence and material assistance to the Kokang rebels — a charge China has vehemently denied. Recently, a Chinese general was sacked as part of Xi Jinping's sweeping anti-corruption campaign in the military after he was accused of leaking state secrets to the Kokang rebels back in 2009.
As I noted last week, the fighting in Myanmar is perhaps the most serious test of China's traditional non-interference policy in foreign affairs in a long time. Given that China has suffered casualties as a result of Myanmar's military action, Beijing would be within its rights to justify military action as self-defense. Additionally, I suspected that the deaths of Chinese citizens as a result of a foreign military strikes would stir up Chinese nationalist sentiments, leading to calls for military action. After all, if China is to maintain its image as a rising superpower, it needs to be prepared to take action when necessary. General Fan's comments will likely placate the nationalists who needed to hear stronger language from the Chinese government than just expressions of "grave concern." What is concerning is that Fan's warning could leave China's political leadership cornered should a similar incident take place again. In such a scenario, the only option may be retaliatory military action.