Myanmar May Have Just Bombed Chinese Territory — Now What?
A Chinese foreign ministry spokesperson confirmed that Myanmar accidentally bombed Chinese soil. What are the consequences?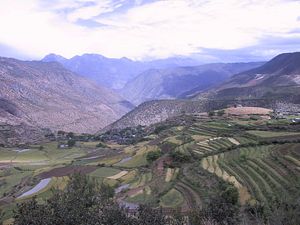 Chinese soil was bombed by Myanmar's air force over the weekend in an accidental strike. The strike resulted in no deaths or injuries, but damaged a Chinese civilian building. During a press conference on Tuesday, March 10, Chinese Foreign Ministry spokesperson Hong Lei confirmed that the brewing conflict between ethnic Chinese Kokang rebels and Myanmar's armed forces in the country's northeast had spilled into China's Yunnan province.
In answering a reporter's question about the alleged bombing, Hong explained the situation and the Chinese response:
It is to our knowledge that amid conflicts between Myanmar's government forces and local ethnic militias on March 8, stray bombs hit the Chinese side and damaged a civilian residence. Luckily, no one was injured or killed. The Chinese side has expressed grave concerns to the Myanmar side, asking them to get to the bottom of this incident as soon as possible and take effective measures to ensure that such incident will never happen again.
The incident will test China's resolve on its policy of non-interference in the internal affairs of other states as per its Five Principles of Peaceful Coexistence, the decades old guidelines configured by the PRC's first premier, Zhou Enlai, to guide the country's foreign policy. Additionally, confirmation of the bombing comes less than a week after it was revealed that a senior People's Liberation Army (PLA) general had leaked state secrets to the Kokang rebels, fueling conspiracy theories in Myanmar that Chinese military know-how was assisting the Kokang rebels in their insurgency.
China's reaction to the incidents unfurling in northeastern Myanmar will be an interesting case study in how Beijing handles foreign crises unfurling on its borders. Of course, the China-Myanmar case may not apply to, say, China's relations with Central or South Asian states, including Afghanistan, India, and Pakistan. China and Myanmar have, in recent history, enjoyed close diplomatic relations though Myanmar's ongoing political reform and border instability have strained things quite a bit.
In terms of China's rise as a great power, the instability is a stark reminder that Beijing does not enjoy the same sense of geographic insularity afforded to the United States. China not only has to reckon with states friendly to the United States along the first island chain off its coast — it also has to ensure that land-based threats from its neighbors do not end up compromising its internal security. Beijing has long been aware of the risk, for example, of Uyghur militants using Pakistan and Afghanistan as safe-havens for planning terrorist attacks. It has included the issue in its diplomatic approach toward these states.
It remains to be seen if Beijing will need to escalate the issue with Myanmar beyond its initial diplomatic protests stating "grave concern." Hong's statement is clear in the fact that a "civilian residence" was damaged. Fortunately, no one was killed. If a similar incident were to occur again and claim Chinese lives, the nationalist backlash would be immediate, possibly forcing Xi Jinping's hand to respond with kinetic military action.