China's Defense Budget to Increase 10 Percent in 2015
Details on what precisely China is spending money on remain murky.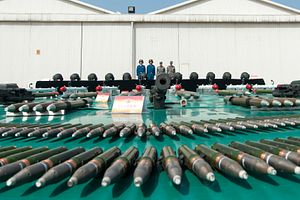 China's defense budget will increase by ten percent in 2015, according to a spokesperson for the National People's Congress (NPC). "I can reveal the rough situation. Among the recommendations for 2015 … [with regards to the] defense budget and the increase in defense spending, the magnitude is probably about 10 percent,"  Fu Ying stated, according to Reuters.
This would bring the official military budget to around $145 billion this year, representing  around 5 percent of total central government expenditures and somewhere around two percent of China's expected overall GDP this year.
Officially, this would be the lowest increase in defense spending for the past five years, partially due to a projected slower annual GDP growth rate of seven percent for 2015. However, in comparison to other countries such as India (which revealed its annual military budget last week), the Chinese defense budget does not take into account various expenditures such as weapons imports, research and development, and money spent on the PLA's strategic forces. Real military expenditures may be as much as 40 – 55 percent higher.
China's defense budget – which will officially be released tomorrow – has grown by double-digits for the last five years (last year's defense budget officially stood at $132 billion, a 12.2 increase over 2013). China's defense budget is now second only to the United States, which is still the world's largest military spender.
The New York Times quotes Xu Guangyu, a retired People's Liberation Army major general, who stresses that, "Per capita, China's military spending remains too low, only about $57,000 for each member of the military forces in 2014. That's far lower than Japan or the United States." With around 2.3 million active soldiers, the People's Liberation Army  is world's largest standing military.
"Compared with great powers, the road of China's defense modernization is more difficult. We have to rely on ourselves for most of our military equipment and research and development … fundamentally speaking, China's defense policy is defensive in nature," notes NPC spokeswoman Fu Ying. "To tell the truth, there is still a gap between China's armed forces [and foreign counterparts] in terms of overall military equipment. We still need more time."
China has gradually reduced its weapons imports over the last decade in order to bolster a burgeoning domestic arms industry. According to the Stockholm International Peace Research Institute (SIPRI), Beijing's defense imports fell 58 percent between 2007 and 2011. A Reuters article states that the "long term goal is to transform some of the leading contractors, such as China State Shipbuilding Corporation (CSSC), Aviation Industry Corporation of China (AVIC), and China Aerospace Science and Industry Corporation into homegrown versions of American giants Lockheed Martin and Northrop Grumman or Britain's BAE Systems."
Details on what precisely China is spending money on remains murky. The International Institute for Strategic Studies (IISS) thinks that personnel costs absorb a third of the budget in China. Looking at open source information on Chinese military doctrine and planning, Beijing will likely heavily invest in its navy (especially anti-submarine  and amphibious ships), and push the overall informatization of the armed forces (including improvements in cyberwar and satellite capabilities).
China's growing defense budget has many regional neighbors worried. The Stockholm International Peace Research Institute emphasizes that "greater transparency on China's behalf would certainly help avoid a regional arms race, and would also be a positive step towards increased global peace and stability."