For First Time in 4 Years, China and Japan to Hold Security Talks
Senior Chinese and Japanese officials will meet later this month for a security dialogue.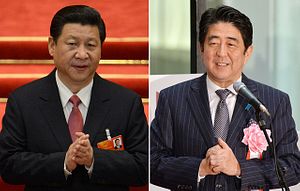 For the first time in four years, Chinese and Japanese officials will hold security talks at a high-level, Reuters reported late last week.
The last time we witnessed any serious engagement between China and Japan on security issues was January 2011 in Beijing. Since then, much has transpired. The Democratic Party of Japan left the building in Tokyo, paving the way for a triumphant return to the top by Shinzo Abe, a right-wing nationalist. Similarly, Chinese President Xi Jinping came to power. Japan and China spent nearly 2 years with zero high-level diplomatic interaction owing to a sharp spike in tensions in the East China Sea after Japan nationalized the disputed Senkaku/Diaoyu Islands in 2012.
The bilateral security summit will take place after a trilateral meeting including South Korea set to be held next week in Seoul. According to the Japanese Ministry of Foreign Affairs, "the three countries will consult on necessary coordination in view of a possible Trilateral Foreign Ministers' Meeting as well as cooperative initiatives" in that meeting. This trilateral process has been ongoing on an annual basis with the last meeting having taken place in September 2014, also in Seoul.
According to Chinese Foreign Ministry spokesperson Hua Chunying, Assistant Foreign Minister Liu Jianchao will represent China at both upcoming summits. Regarding a possible agenda for the bilateral meeting, she noted that China and Japan would "exchange views on bilateral relations, respective national defense policies and international and regional issues of common interest." Hua additionally described the bilateral security dialogue as an "important [channel] of communication between diplomatic and defense departments of the two countries." The meeting will take place on March 19.
Late last year, Japanese diplomats pursued behind-the-scenes negotiations with China, leading up to a reconciliatory handshake between Abe and Xi on the sidelines of the Asia Pacific Economic Cooperation (APEC) forum. That meeting, while a great photo-op for the two leaders, did not lead to an immediate sea change in China-Japan ties.
In the lead-up to that meeting, however, Japanese National Security Secretariat chief Shotaro Yachi and Chinese State Councilor Yang Jiechi met, leading to a "four-point consensus" on the state of China-Japan bilateral relations. That document stated that both sides had made good progress on issues of importance, and that they reached "some agreement" on "facing history squarely and looking forward to the future."
The upcoming security talks will take place with an acknowledgment of the four-point consensus. But don't expect any progress on the Senkaku/Diaoyu issue at March's meeting. Japan continues to deny any dispute exists; its official website on the islands notes, as of this writing, that "there exists no issue of territorial sovereignty to be resolved concerning the Senkaku Islands."