Former Chinese General's Death Means No Military Show Trial – For Now
Former PLA general Xu Caihou has passed away, ending the legal case against him.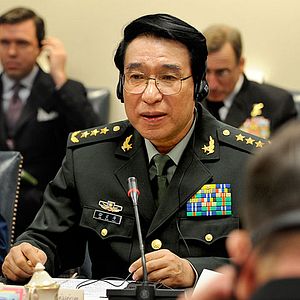 Xu Caihou, formerly a general in the PLA and the vice chairman of China's Central Military Commission, passed away on Sunday, according to Xinhua. Xu, 72, was the top-ranked military official to be placed under investigation for corruption under Xi Jinping's campaign, which seems to be gathering steam within the military.
Xu, who was officially ousted from the Chinese Communist Party in June 2014, after months' worth of speculation that he was the subject an anti-graft investigation. However, because Xu was known to have terminal bladder cancer (the condition that led to his death on March 15), some sources wondered whether this effective "death penalty" would be punishment enough for the CCP. In the end, however, Xu's illness did not allow him to escape.
In October 2014, military prosecutors announced that they had completed their investigation and would be formally putting Xu on trial. That would have been a major step forward for the appearance (if not the substance) of the "rule of law" within the PLA. As Susan Finder noted in a recent piece for The Diplomat, the PLA has its own separate legal apparatus. Pursuing legal reforms and the "rule of law" within the PLA will be even more difficult than the uphill battle to do so in China's civilian legal sphere.
The other major "tiger" to be caught in Xi's anti-corruption drive, former Politburo Standing Committee member Zhou Yongkang, is set for an open trial, according to Zhou Qiang, the president of the Supreme People's Court. China experimented with the model of carefully-controlled but extensive media coverage in the trial of Bo Xilai, the former Party chief of Chongqing who fell amidst a soap opera-esque tale of murder, adultery, and bribery. Zhou's coming trial will likely follow a similar model. As Reuters notes, however, Zhou stands accused of leaking state secret, so at least that portion of this trial is likely to kept under wraps in the name of national security.
The case against Xu would have poised even thornier problems for the dilemma of public access and national security. Military courts tend even more toward secrecy by their very nature. The balance between media coverage and secrecy would have been an interesting decision to make.
Xu's death, of course, means the end of the legal case against him. As CCTV reported, military prosecutors will drop their case against Xu (although they will "continue to process his illegal assets" – which reportedly included a literal ton of cash as well hundreds of pounds of jade). The investigation into Xu is effectively closed; China will have to wait for a major trial equivalent to Bo's case to be held within its military courts.
The next military "tiger" may already be in Xi's sights, however. Xu's fellow vice chairman on the CMC during the Hu Jintao era, Guo Boxiong, is popularly believed to be the next major target. His son, Guo Zhenggang, has already been announced to be under investigation, leading observers to believe the father will fall next. And of course there's the still pending case of a smaller "tiger," Gu Junshan, formerly the deputy head of the PLA's General Logistics Department.
China may get its military show trial after all.