Myanmar's Royal Legacy
The Burmese royal family may have lost their throne long ago but their influence lingers in Myanmar.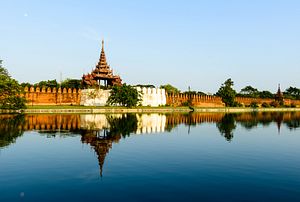 When you visit the home of the long-lost heir to the Burmese throne, you're not supposed to sit on a chair. Nor are you to sit on the wooden bench, above which hang black and white family portraits, including an image of Queen Supalayat and King Thibaw, the last in a line of absolute rulers.
"Those people that know their position, they won't sit like this," explained Taw Phaya, Thibaw's grandson, in a plummy-sounding English learned in British mission schools. "They will sit on the floor," he said.
King Thibaw's grandson, whose boyish smile and wry humor belie his 91 years, lives in a plain white bungalow in Maymyo, a one-time colonial hilltop retreat. It's about two hours drive from Mandalay, the old royal capital where, last Sunday, he and his relatives held a Buddhist ceremony for the first time since the last king was shipped off to India by the invading British in 1885. "It was like a family gathering – all the lost family members," said U Soe Win, Taw Phaya's nephew. The ceremony, held in front of Thibaw's throne, was a rare freedom. Variously wealthy and impoverished, and increasingly remote from influence, the family has long been under the thumb of authorities fearful that they could serve as a rallying-point for opposition.
The golden palace in Mandalay, where Supalayat plotted to have all her husband's rivals to the throne killed, was destroyed by bombing during World War II. Rebuilding started in 1989 but the palace is occupied by the military and much of the grounds remain off-limits. The royal descendants, who are scattered across the country, rarely visit. "The big thing is that we cannot go in freely," said U Soe Win. "The deputy minister of culture [Than Shwe] is very interested in the royal family – he made arrangements." When contacted by The Irrawaddy, Than Shwe was quick to distance the government from the event. "It was not arranged by the government, but by me with the permission of the Culture Minister," he said. "I arranged it because I felt a longing for them [the royal family]."
Despite the many generations that have passed since a Burmese king last sat on the Lion Throne, Taw Phaya says the monarchy still has the potential to ignite passions. "This is something that is still smoldering – and it can burst into flames any time," he said. After all, he has lived through turbulent decades during which issues surrounding monarchy – in particular whether to repatriate Thibaw's remains from India, first proposed after he died in 1916 and flatly rejected by the British – have been flashpoints.
Taw Phaya and his sister, Thibaw's only surviving grandchildren, were born in the 1920s to the former King and Queen's youngest daughter, Ashtin Hteik Su Myat Phaya Galae, known as "the Ratnagiri princess" after her birthplace. "My mother was like all mothers – she was the fighter in the family," said Taw Phaya, with a chuckle. After her parents' deaths, Su Myat Phaya Galae moved to Mandalay, where she attracted followers and started issuing demands." My mother asked to have the palace and Upper Burma back – that sort of twisted the British mindset," said Taw Phaya. So in 1931 the authorities sent his mother and her young family to a southern port now known as Mawlamyine, far from their support base in Upper Burma. The British Commissioner, who was the children's guardian, insisted they board at mission schools and banned them from returning to Mandalay, even for inter-school football matches.
Around Burma's independence in 1948, the royals began to creep back into socio-political consciousness. General Aung San reportedly went so far as saying, according to the late Prince Thaya Galae's book King Thibaw, that the restoration of the monarchy was integral to "the meaning of independence." A committee backed by U Nu, the first prime minister, planned to return Thibaw's remains to Burma. Taw Phaya blames the British. "The British called [then president] U Nu and said, 'don't go start, this is a wild elephant sleeping – if you wake that wild elephant we'll go out first, the British embassy will be smashed and then your government will be kicked out'," he said.
But the elephant never woke, and the former royal family's fortunes fell further after the 1962 military coup that brought General Ne Win to power. The import-export company Taw Phaya had founded with his brother, which afforded his family a comfortable life, fell victim to 'the Burmese Way to Socialism' and was nationalized. The cruelty of the junta cast the colonial regime in a good light. "Give the devil its dues," he said. "We were, one could say, sort of well looked after with the British. They would give about 45 per cent of what was our rights, not like some of these despots."
Today, many people, especially in rural areas, have a residual affection for the monarchy, said Sudha Shah, author of The King in Exile: The Fall of the Royal Family of Burma, in an email. "In my opinion, it's not King Thibaw but the bygone era of Konbaung rule that is remembered by some with nostalgia," she said, referring to the dynasty that spanned 11 monarchs and ended with Thibaw. "The perception is that the country was robbed of the institution of monarchy, and all it stood for, by the British with the colonization of the kingdom." But there's little chance of a sudden revival of the monarchy. "However, all the descendants I have met, although aware and proud of their heritage, realize that their royal past is of the past, and today most of them live and work like any other Myanmar citizen does," Shah added.
Thibaw's exile has been a long one. His remains are still in Ratnagiri, a town which he resented as the site of his humiliation. The last Mughal emperor of India, Bahadur Shah Zafar, meanwhile, is still in Burma where he died after a similar exile. Nothing has come of a campaign to exchange royal relics that culminated with President Thein Sein's unprecedented visit to Ratnagiri in 2012 – it was simply not a priority for either country. "As far as I know, neither the Indian nor the Myanmar government refused permission in 2012," said Shah. "It's just that there were too many other pressing matters that got precedence in the bilateral discussions, as has been happening over the years."
U Soe Win, who is retired but used to work in the Ministry of Foreign Affairs, accompanied Thein Sein on his journey. "Our President was very interested… But now is not the time," he said. "Our country is now just opening up, so we wait until it is finally open so we can have these kind of privileges." He spoke about the population having residual affection for royalty as representatives of the Buddhist religion, before pausing and adding, with a chuckle that recalled his uncle: "But speaking frankly, I think we are all forgotten."
Poppy McPherson is a freelance journalist in Southeast Asia.