Contemporary Interpretations of Traditional Asian Crafts at Collect 2021
This year's online edition of Collect art fair showcases how modern artists are interpreting Asian craft art forms into traditional and contemporary pieces.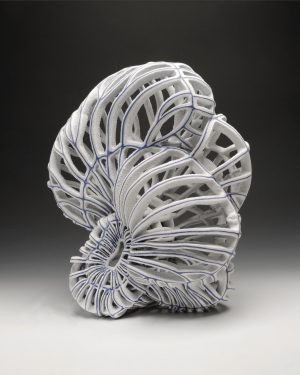 Collect 2021, launching in partnership with the online art platform Artsy, goes live on Friday, February 26. It is the 17th edition of the Collect art fair but the first offered fully online due to COVID-19. Collect 2021 aims to bring museum-quality, collectable crafts to the level of fine art with strong focus on work made within the last five years.
While Collect is typically based in London, its pieces have global representation that extends to Asia. Through Asian-born artists, galleries based in Asia, and crafts originating from Asian traditions, Collect 2021 serves as a one-stop shop for collectors and the public interested in contemporary visions of traditions.
Collect 2021's line-up of East Asian galleries, artists, and inspired traditions has quite a range. Lloyd Choi, a ceramics gallery based in South Korea, represents a gallery that uses its global reach to promote and honor Korean aesthetics. Ting-Ying Gallery, based both in the U.K. and mainland China, embodies the East-West proliferation of the Chinese tradition of porcelain. Other galleries, including Ruthin Craft Centre in Wales and Gallery TEN in Scotland, showcase the work of East Asian-born artists who have transplanted to the U.K. Several of these new East Asian artists recently graduated from the Royal College of Art in London, but continue to work on traditionally East Asian craft forms, such as Japanese-style ceramics and Chinese porcelain and lacquer. As Isobel Dennis, the Fair Director of Collect, says "The link between the U.K., Europe, and Asia is fundamental to the story and how we appreciate collectable craft."
Collect's previous editions have revealed that Western audiences are not only buying Asian crafts, but are "hungry to learn" about traditional and contemporary East Asian art forms. As a result, galleries and dealers are not only selling products but are also providing education on what the product is, the form's history, and various interpretations by modern artists.  
Ting-Ying Gallery, specializing in porcelain from Dehua, China, focuses more on contemporary interpretations of traditional methods and material. Given the long-standing traditions of porcelain in China, Peter Ting, one of Ting-Ying's founders, explains the importance of history to his craft: "You have to let it be a springboard for creativity, not a lead weight around your neck. You could say that the Ming or Song dynasty reached a pinnacle, but then you can never free yourself from that thought. It's a different mindset to say, 'Look what incredible things have been done with this material, and now look what I'm going to do with it.'" 
Ting-Ying Gallery particularly values artists who have a "full understanding of the weight of the history that you carry on your shoulders, but are also not slaves to tradition." As a ceramicist himself, Ting rejects a "continuous adoration of things past. If you have the technology, make something groundbreaking." 
Returning to Collect is The Gallery by SOIL, a Hong Kong-based gallery that promotes lacquer art as a discipline. While SOIL describes lacquer as a "rare and uniquely Asian art," the audience for contemporary lacquer has grown beyond its Asian origins. Considering traders started bringing lacquer objects to the West in the 16th century, European collectors and museums are by no means strangers to lacquer art. However, SOIL has noticed that collectors from the East and West continue to differ in their purposes for collecting lacquer. Asian audiences "have a highly developed tradition of collecting lacquer for both decorative and domestic use," pay greater attention to craftsmanship, and "appreciate lacquer art that adds depth to their life as something to share with future generations." Foreign audiences, on the other hand, recognize lacquer as a "progressive medium" that can be incorporated into interior and architectural projects to create "a memorable spatial encounter." The versatility of lacquer has drawn audiences who are both knowledgeable in traditional, oriental craft, but are also open to new, contemporary works.
Daniella Wells, a marketing consultant for Collect, believes Chinese lacquer and the Korean "Moon Jar" are examples of time-honored traditions that "are now visible parts of the market" and have collectors begging for more. As Dennis further notes, "Works from South Korea also showcase extraordinary techniques to make fantastically contemporary pieces. The pieces still really respect that tradition and use those same techniques; but the result is contemporary pieces that feed out across Europe."
In particular, the Korean "Moon Jar" has experienced a surge in popularity in recent years. The founder of Lloyd Choi Gallery – which focuses on Korean artists who are reinterpreting tradition in their contemporary practice – has used self-isolation during the pandemic as an opportunity to study the Moon Jar and its untold story. According to Choi, the term was first introduced in the mid-20th century by Kim Whanki, the father of Korean abstract art and a collector of ceramics, who enjoyed "watching" his white pottery pieces at night under the moonlight. Although the South Korean Cultural Heritage Administration provides an official definition of a "Moon Jar." Choi emphasizes the technique is what makes a characteristic Moon Jar. The traditional technique originating from the Joseon dynasty includes using two hemispheric rice bowls to create a large, round porcelain pot. This creates a visible joint line running across the center of the jar, marking not only its distinct technique, but giving it a "humanistic" quality of imperfection.
Park Sung-wook's reinterpretation of the iconic Moon Jar, as seen below, is made with traditional Korean white-slip stoneware known as "Buncheong." He pours white slip onto jars and uses a traditional wood fired kiln to achieve this authentic form. His recent work, "Black Moon Jar," is iron glazed and adds weight and masculinity to the elegant, traditional Moon Jar. 
Crafts are particularly marked by this humanistic nature and the in-person experience of a given piece's 3D nature, scale, color and texture. As The Gallery by SOIL describes, their approach is about "not just seeing, but also feeling lacquer art by allowing visitors to not only see, but to touch and feel rare examples of exquisite lacquer art, craft and artifacts." Appreciating handcrafted artworks is a total aesthetic experience, and Collect 2021 strives to bring that same experience to a virtual audience through VIP private audiences and public events. In the context of the global pandemic, Collect 2021's online experience aims to demonstrate how connectivity can still happen overseas and across cultures – even when visitors cannot meet in the same building. This also means various overseas artists will participate in these discussions from their home countries, often the original country of the tradition that inspired the piece on display.
Even beyond COVID-19, the organizers of Collect 2021 believe the online platform is here to stay. As Wells states, the virtual platform is "as beneficial to a global audience as it is for the galleries and artists." In line with the U.K. Craft Council's mission to celebrate, promote and share craft locally and beyond, Collect 2021's pivot to a virtual fair ensures that art collectors and fanatics alike continue to have the opportunity to engage with art and support artists during these difficult times. As a fair centered around the work of living artists, this virtual global platform provides a space to show, sell, and receive commissions for work that would be otherwise inaccessible without physical gallery space. Collect 2021 will open on Artsy on February 26, 2021 and remain until March 2, 2021.