What to Expect From India-China Border Talks in the Modi-Xi Era
For the first time since Narendra Modi came to power, India and China will hold high-level border negotiations.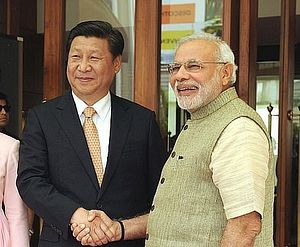 India and China will hold direct negotiations about their border dispute this week — the first such talks since Indian Prime Minister Narendra Modi came to power in India's general elections last May. Chinese State Councilor Yang Jiechi and Indian National Security Advisor Ajit Doval are meeting this week, just six months after Chinese President Xi Jinping visited New Delhi. During Xi's trip to India, both he and Modi indicated their seriousness about beginning talks in earnest on resolving the border dispute between the two countries. India and China, Asia's two largest states, share a 3,380-kilometer border. There are currently two major disputed territories: Aksai Chin, which China administers but India claims, and Arunachal Pradesh, which India administers as a state in the India Union but China claims.
It remains to be seen if this round of high-level border talks will yield any real progress. Though both Modi and Xi have amicably raised the border issue to the top of the India-China bilateral agenda, both governments continue to make moves that render a long-term resolution of the disputes untenable. On the Indian side, Chinese border incursions remain a major irritant. The most serious incursion in recent history took place in April 2013, when a People's Liberation Army platoon set up camp for nearly three weeks on the Indian side of the Line of Actual Control (LoAC). Similarly, Xi Jinping's inaugural trip to Narendra Modi's India in September 2014 was overshadowed by a similar incursion.
On the Chinese side, visits by senior members of the Indian central government to Arunachal Pradesh are a constant source of concern. Additionally, despite the positive rhetoric from India on the border issue, the Modi government is prioritizing the development of Arunachal Pradesh's border areas with China — a project ignored by India's former Congress-led governments. Kiren Rijiju, an Arunachal native and minister of Home Affairs under the Modi government, has further initiated plans to build an 1,800 km highway along the disputed border (in a bid to match Chinese endeavors in southern Tibet). The Indian government is additionally planning on actively encouraging settlements along the Arunachal border.
It's apparent that both sides are cautiously approaching negotiations. Still, a high-level dialogue can only be positive. The last major diplomatic agreement was the Border Defense Cooperation Agreement (BDCA), which former Indian Prime Minister Manmohan Singh signed on his last official trip to China before leaving office. The BDCA was a nuts-and-bolts crisis management mechanism, intended to help both sides deescalate tensions should a border incident take place. What Modi and Xi are targeting with these negotiations is far more ambitious: a process to finalize the borders between Asia's two largest rising powers.