China Evacuates Foreign Nationals from Yemen
China just evacuated foreign nationals from 10 countries from a war zone.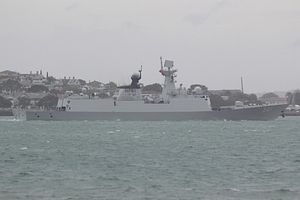 As Yemen grows increasingly dangerous following the start of Operation Decisive Storm, a Saudi Arabia-led military campaign against the Houthi rebels who have overrun large swathes of the country, several countries have initiated operations to evacuate their citizens from the increasingly unstable state. In an unprecedented move, the Chinese government dispatched a People's Liberation Army (PLA) Navy frigate to help evacuate 225 nationals from 10 countries. According to a report in Xinhua, citizens from Pakistan, Ethiopia, Singapore, Italy, Germany, Poland, Ireland, Britain, Canada and Yemen were evacuated aboard the Type 054A Linyi frigate. Chinese military officials confirmed that this was the first time that a Chinese military vessel evacuated non-Chinese citizens in a humanitarian assistance mission.
Speaking at a press conference on Friday, Chinese foreign ministry spokesperson Hua Chunying confirmed China's involvement in the evacuation efforts:
On April 2, the Linyi frigate of the Chinese navy, carrying 225 nationals of 10 countries in Yemen including Pakistan, departed from the port of Aden in Yemen and arrived in Djibouti safely. Initial calculation shows that among the evacuees, 176 are from Pakistan, 29 from Ethiopia, 5 from Singapore, 3 from Italy, 3 from Germany, 4 from Poland, 1 from Ireland, 2 from the UK, 1 from Canada and 1 from Yemen. This operation follows China's evacuation of its own nationals from Yemen, in which 8 foreigners from Romania, India and Egypt were also safely evacuated along with Chinese citizens.
The evacuated citizens were ferried across the Gulf of Aden, a regular area of operation for Chinese vessels involved in anti-piracy operations, to the small African nation of Djibouti, on the Horn of Africa. Amid the Linyi's evacuation efforts, the Associated Press reports that China dispatched an additional naval squadron to the Gulf of Aden to conduct anti-piracy patrols. The squadron comprises "three ships with their 800 sailors and a team of special forces soldiers." Earlier in the week, China's Weifang missile frigate and Weishanhu supply vessel evacuated 449 Chinese citizens and six non-Chinese employed by Chinese companies from Yemen's Hodeidah port to Djibouti, according to Xinhua. Overall, as the conflict escalates in Yemen between the Saudi-led coalition and the Houthis, China's navy remains ever-present off the coast.
The successful rescue mission has drawn gratitude from across the world. Xinhua and other Chinese media outlets have highlighted statements of thanks from senior officials in Djibouti, Ethiopia, Poland, Pakistan, and elsewhere. For a rising China eager to portray its military modernization in non-aggressive terms, successful operations such as this one highlight the PLA's ability to become a net provider of humanitarian aid in times of crisis. Hua, in her statement to the press, noted that the operation highlights China's interest in "putting the people first." She added that the move embodied China's belief in "internationalism and humanitarianism."
China's participation in these evacuation efforts in Yemen is the latest example of the People's Liberation Army attempting to forge goodwill and a positive image for itself by aiding other countries. Other recent examples include Beijing's deployment of PLA assets to Liberia and Sierra Leone to help fight the Ebola epidemic in 2014, the deployment of the Peace Ark hospital ship to the Philippines after 2013's deadly Typhoon Haiyan, and the emergency deployment of the PLAN's lone research icebreaker vessel, the Xue Long, to rescue researchers stranded aboard an ice-locked ship in Antarctica in early 2014. China additionally is a major contributor to United Nations peacekeeping missions.
So far, China's military modernization efforts and international operations have done little in terms of building a positive global image for China. Given its maritime and territorial disputes with many of its Asian neighbors and perceived contest with the United States for maritime dominance in the Asia-Pacific, the PLA's rise is widely regarded with trepidation and concern. Operations like this one in Yemen, however, are precisely what's needed for China to demonstrate that a more expeditionary and global PLA can be a force for good. As Fudan University's Shen Dingli told Reuters, China "wouldn't look very good" if it had military assets in the Gulf of Aden with excess capacity but still didn't offer assistance to countries in need. "Now we look really good," he concludes. China's sustained involvement in international humanitarian assistance and disaster relief efforts can only be positive as far as perceptions of the PLA are concerned.