Chinese Navy Holds 'Confrontation Drill' in Sea of Japan
The ships participating in the exercise were on their way back to China from RIMPAC 2016.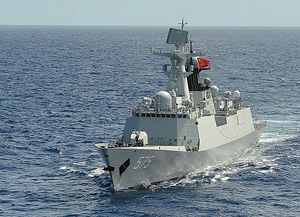 Last week, China's People's Liberation Army Navy (PLAN) held what state media called a "maritime confrontation drill" in the Sea of Japan. The drill involved a simulated skirmish between two Chinese naval task forces and involved multiple warships from the PLAN's East China Sea Fleet.
The Xi'an, a guided missile destroyer, the Hengshui, a guided missile frigate; the Qiandaohu and Gaoyouhu, two supply ships; and the Yangzhou, a multi-role frigate, participated in the exercise. The exercise also involved the Jingzhou, a Type 054A Jiangkai II-class multi-role frigate that was commissioned earlier this year—one of the PLAN's newest warships. The ships participating in the exercise arrived in the Sea of Japan after the U.S.-led 2016 Rim of the Pacific Exercise, the largest multilateral naval drill in the world.
A statement posted by the Chinese Ministry of Defense notes that the ships simulated a stand-off between a "red army" against an enemy blue army, involving a simulated bomber attack against a naval task force. "The precision strike against 'enemy' maritime strength jointly launched by warships and naval aviation force in pelagic environment was highlighted in the confrontation drill," a PLA Daily report on the drill added.
The drill stresses the PLAN's ongoing bid to develop as a blue water navy, capable of fighting a naval war in open oceans, far from the Chinese coast. The exercise, though scheduled months in advance, comes as tensions between China and Japan in the East China Sea have spiked. Beijing claims sovereignty over the Senkaku/Diaoyu Islands in the East China Sea, which are administered by Tokyo.
"This exercise is part of annual training arrangements, is not aimed at any specific country, region or target, and accords with international law and practice," the PLA Daily report added. "Exercises far out at sea in international waters are common among the world's navies, and this year our navy has conducted many exercises far out in the western Pacific."
A separate report by Xinhua, China's state news agency, noted, citing a "Navy source," that "Foreign aircraft attempted surveillance during the drill and were met with the proper response from the Chinese warships."
Next month, China and Russia will hold a joint naval exercise in the South China Sea. Last year in August, the two countries held exercises in the Sea of Japan.