China Is Watching as US Seeks to Smooth Ties With Latin America
Chinese media are keeping a close eye on the OAS summit in Panama.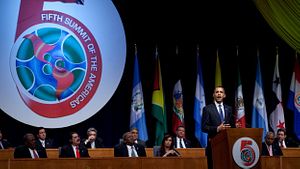 Whenever China takes part in a regional meeting (from the Shanghai Cooperation Organization to various ASEAN forums), Western media, scholars, and policymakers scrutinize the event for hints of continuity or change in Beijing's approach to its neighbors. Now China is returning the favor – Chinese media is watching closely as U.S. President Barack Obama takes part in the Summit of the Americas in Panama, held under the aegis of the Organization of American States (OAS).
Though China's ties with Latin America are still small compared to its presence in other regions, Beijing has been pursuing increased engagement in "America's backyard" as part of a more active diplomatic strategy. In February 2014, Beijing announced the formation of a new ministerial meeting with the Community of Latin American and Caribbean States (CELAC); the China-CELAC Forum convened for the first time in January 2015, with Chinese President Xi Jinping himself presiding over the opening ceremony.
During the forum, Xi announced China's goal of boosting bilateral trade to $500 billion by 2025 – or not quite doubling trade over 2013 levels. Doubling trade in 12 years is not an overly ambitious goal for China (for instance, in 2014 China promised to double trade with Africa by 2020). Even $500 billion in bilateral trade would leave China far behind the United States, which enjoyed $850 billion in bilateral trade with the region in 2013. As Chinese scholars Xue Li and Xu Yanzhou pointed out in a recent piece for The Diplomat, Latin America simply isn't at the top of Beijing's priority list, either strategically or economically.
However, that doesn't mean China isn't watching with interest as the U.S. tries to shore up ties in the region. In particular, Chinese media seems to be enjoying some schadenfreude when it comes to Washington's issues with some of its neighbors (not unlike the somewhat exultant attitude some U.S. scholars adopt when China's relations with other Asian countries hit a snag). "Summit of Americas to highlight poor U.S.-LatAm ties," one Xinhua headline proclaimed.
That piece mainly focused on the confrontation between Obama and Venezuelan President Nicolas Maduro. On March 9, Obama signed an executive order placing sanctions on Venezuela for human rights violations. The same EO called Venezuela an "unusual and extraordinary threat to the national security and foreign policy of the United States." Xinhua called that move "one of Washington's biggest regional diplomatic bungles," pointing to "widespread sympathy" for Maduro in the region.
The piece quoted Venezuela's deputy foreign affairs minister, Alexander Yanez:
The summit will mark a turning point in Latin America's ties with the United States as the region shows [the] great unity and consensus that exists among our countries and rejects the special interest an imperialist power has in our continent.
A separate Xinhua piece also cited Washington's "poor ties with Latin American countries," noting that Ecuadorian President Rafael Correa threatened to boycott the summit over U.S. funding for human rights causes in Cuba, Venezuela, and Ecuador. Still, the piece concluded that "the U.S. is expected to nimbly… meet the challenge that may otherwise derail the gathering in Panama."
China saw Obama's announcements during a stop in Jamaica though this lens of regional geopolitics. Xinhua interpreted the new energy deals with the Caribbean as Obama's way of countering Venezuela. "Obama seeks to renew predominance over Caribbean through energy initiatives," the headline proclaimed.
China's Foreign Ministry was more upbeat on the summit, however. Spokesperson Hua Chunying told reporters that China "welcomes further development of relationship between the U.S. and Latin American and Caribbean states based on mutual respect and non-interference in each other's domestic affairs." She added that China hopes that "the OAS summit would make positive contributions to stability and development of the Western Hemisphere."
Hua also emphasized that China's growing ties with Latin American states do "not target, exclude or impact their respective relations with other countries." But there's little doubt that China will find it easier to make inroads in the region if it can capitalize on discontent toward the United States. Thus, Beijing is watching closely as Obama meets with his Latin American counterparts in Panama.