China's Already Preparing for a Post-Sanctions Iran
China is ready to capitalize on any sanctions relief that comes with a final Iran deal.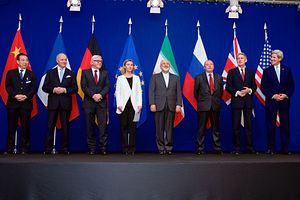 Negotiations over Iran's nuclear program made a breakthrough last week, with the P5+1 powers (China, France, Germany, Russia, the U.K., and the U.S.) and Iran reaching a framework agreement on an eventual deal. The framework outlines the basic points of a deal – including limits on Iran's ability to enrich uranium in return for the lifting of nuclear-related sanctions. Now negotiators will go to work on reaching a final, detailed agreement in advance of the June 30 deadline.
Iran is eager to rid itself of international economic and financial sanctions that have crippled its economy in recent years. Two tweets from Iranian Foreign Minister Javad Zarif showed how much of an emphasis Tehran will place on getting the maximum number of sanctions removed as quickly as possible. Meanwhile, other negotiating powers, particularly the U.S., are keen to see Iran's compliance with the deal verified before any sanctions are lifted.
Iran, however, is not waiting for verification to seek expanded economic engagements – in fact, it's not even waiting until the final deal is unveiled in late June. According to Reuters, Iran has already sent a group of Iranian oil officials to China seeking increased investments and oil exports. Iran's oil minister, Bijan Zanganeh, is also expected to visit China in the near future.
Iran hopes to double its oil exports in the first two months after sanctions are lifted; China will be a crucial part of making that dream a reality. Prior to 2012, when sanctions took hold, Iran was the third-largest oil exporter to China. By 2013, Iran had dropped to sixth place, falling behind Oman, Russia, and Iraq.
Two Chinese state-owned oil companies, China National Petroleum Company (CNPC) and Sinopec, had already promised billions to Iranian oil projects before sanctions were laid down. Sinopec, for instance, has a $2 billion deal to develop an oil field in Khuzestan, while CNPC has a $2 billion contract for a field in North Azadegan. But as sanctions tightened on Iran post-2011, China's oil companies began to back away from further investments in Iran. CNPC, for example, withdrew from a deal to develop a natural gas field in South Pars in 2012, saying sanctions had made it too difficult to get the necessary equipment from western companies.
However, at the first sign of sanctions relief – the preliminary deal between the P5+1 powers and Iran reached in November 2013 – China moved quickly to recommit to Iranian oil. In the first six months of 2014, China's oil imports from Iran increased 48 percent from the same period the previous year. That pace slowed over the rest of 2014, but the year as a whole still registered a 28 percent increase in oil imported from Iran. In other words, China began acting on the expectation of permanent sanctions relief almost immediately – putting pressure on negotiators to actually reach a deal.
The same dynamic is in play again, with Chinese oil companies clearly moving to position themselves to take advantage of promised sanctions relief in the second half of 2015. Iran is also seeking renewed partnerships with other countries' oil firms, particularly companies from Europe. With deals being negotiated already, it's going to be tough (if not impossible) for the P5+1 powers to walk away from the table with sanctions intact should the talks go south.
Meanwhile, China is also moving to integrate Iran into its own multilateral institutions. Iran has been officially accepted as a founding member of China's Asian Infrastructure Investment Bank (AIIB), another small step toward normalizing Iran's interactions with the global community. According to Xinhua, Iran's membership was approved by the AIIB's existing members – including Britain and France, two of the other countries involved in the P5+1 negotiations with Iran.
China is also keen to have Iran join the Shanghai Cooperation Organization (SCO). That regional grouping is currently devoted to fighting the "three evils" of separatism, terrorism, and religious extremism but it has growing economic aspects as well.