Iran and Pakistan Agree to Enhance Bilateral Trade
Iran and Pakistan agreed to boost their trade ties, in an agreement that could yield $5 billion in trade growth.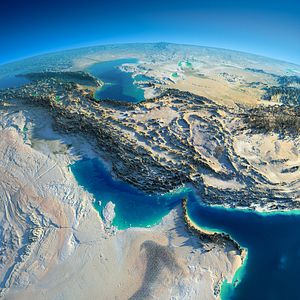 Pakistan is having a productive diplomatic week. Hardly two days after Chinese President Xi Jinping's departure, Islamabad concluded a five-year trade facilitation plan with neighboring Iran. The deal is expected to yield a $5 billion growth in trade volumes between the two countries.
According to Dawn, a major Pakistani newspaper, the deal was finalized in Tehran on Wednesday, at the seventh Pakistan-Iran Joint Trade Committee meeting. Pakistan's delegation was spearheaded by Commerce Minister Khurram Dastagir Khan while Reza Nematzadeh, Iran's Minister for Industry, Mines and Trade led Tehran's contingent.
The Pakistani side expressed its concern regarding certain protectionist Iranian policies, including import bans, onerous tariffs on textiles, and an overly bureaucratic authorization system for imports.
Pakistan and Iran signed a Preferential Trade Agreement in 2004 that came into effect in September 2006.
Though the two countries have long discussed enhancing their bilateral trade ties, Pakistan's hands were partly tied due to the international sanctions put in place against Iran over its nuclear program and Islamabad's close relationship with the United States.
This week's meeting resulted in both delegations leaving with optimistic expectations, and the anticipated benefits of enhanced trade ties will be multiplied should Iran and the P5+1 group of powers reach a final agreement on Iran's nuclear program. The deadline for those talks has been set for June 30, 2015.
Despite the prospect for better trade ties, Iran and Pakistan continue to face a range of challenges in their bilateral relationship.
One of the most severe issues on the security front is the Pakistani state's inability to crack down on Sunni militant groups along the Iran-Pakistan border between the Pakistani province of Balochistan and the Iranian province of Sistan-o-Baluchistan.
In early April, Jaish ul-Adl, one of these Pakistan-based terror groups, ambushed and killed eight Iranian border guards.
Despite the violence on the border, relations between Iran and Pakistan appear to be on an upswing. Iranian Foreign Minister Javad Zarif visited Islamabad shortly after the announcement of the framework nuclear deal between Iran and the P5+1 in Lausanne, Switerland.
Additionally, with recent reports that China will financially back the construction of the Pakistani portion of a long-planned bilateral natural gas pipeline, Iran and Pakistan may be on the cusp of a new era in their bilateral ties.