Surprising Trends in US Views of China
Demographic trends in U.S. public opinion could be a positive sign for the future of U.S.-China relations.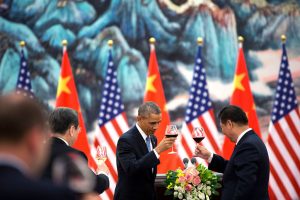 The Pew Research Center just released the results of a survey on U.S. and Japanese public opinion, particularly how those two countries view each other. My colleague Ankit has already covered the main takeaways from the survey for U.S.-Japan relations; however, the survey also contains interesting tidbits about perceptions of China in the U.S.
First, when asked whether it is "more important for the U.S. to have strong economic ties with" Japan or China, a plurality of Americans (43 percent) chose China, with 36 percent choosing Japan. Interestingly, however, the number of Americans prioritizing strong economic ties with China was substantially higher among young people and minorities. Among the 18-29 year-old demographic, 61 percent of Americans favored economic ties with China, compared to only 28 percent among people 65 or over.  Meanwhile, 52 percent of non-whites chose China over Japan, compared to 38 percent of whites. Considering that today's young people are tomorrow's policymakers – and that whites are expected to be a minority in the U.S. in 30 years – those discrepancies are worth noting.
When it comes to the perceived quality of trade, however, Americans favor Japan. According to the survey, 55 percent of Americans believe that Japan has a "fair" trade policy with the U.S. while only 37 percent think the same of China. Here again, however, younger Americans and non-whites are both more likely to think China is a fair trader, with 52 percent of both groups calling China's trade policy fair.
However, it's worth noting that not too long ago, when Japan was seen as the major economic competitor to the U.S., attitudes were far different. In 1989, only 22 percent of Americans called Japan a fair trader, meaning Japan had an even worse reputation in the U.S. than China does today. But today those old grievances hardly factor into the equation. Only 8 percent of Americans consider the "trade wars" of the 1980s and 1990s the most important event in U.S.-Japan relations. In other words, perceptions of economic "fairness" and competition can change rapidly – 20 years from now, Americans might have forgotten about the economic competition that currently exists with China.
The more serious problem for U.S.-China relations is a lack of overall trust. Only 30 percent of Americans say they have a "great deal" or a "fair amount" of trust in China, while a full 25 percent of Americans do not trust China "at all." Yet if we look only at Americans in the 18-29 age group, the percentage of people who say they trust China climbs to 49 percent (compared to a mere 21 percent of Americans aged 65 or over).
These trust issues have made Americans more supportive of closer ties between the U.S. and Japan. Sixty percent of those surveyed said that China's military and economic rise makes U.S.-Japan relations "more important." However, that doesn't automatically translate to support for Japan's defense reforms. Americans were fairly evenly split on whether Japan should play a more active military role to help "maintain peace and stability in regional affairs." Forty-seven percent of Americans agreed, while 43 percent said Japan should actually "limit its military role." Meanwhile, 68 percent of Japanese want Japan to limit its military role in the region, with just 23 percent favoring a more robust military posture. Both those numbers should be reassuring to China, which decidedly does not want Japan to play a more active military role.
Finally, some more comfort for Beijing – despite seemingly endless media coverage, a full 39 percent of Americans say they have heard "nothing at all" about territorial disputes between China and its neighbors. Forty-four percent said they know "a little" about the disputes, with only 16 percent of Americans saying they have heard "a lot" about them. Compare that to the North Korean nuclear issues, where 39 percent of Americans said they had heard a lot and another 42 percent had heard a little.