Thailand Completes Troubling New Constitution
The first draft of the charter contains some worrying provisions.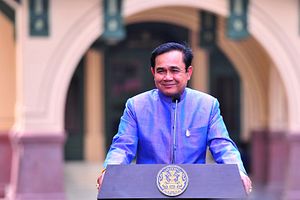 On April 17, Thailand completed the first draft of its new constitution – the country's 20th since 1932 – as expected.
The new charter, written by the 36-member Constitution Drafting Committee (CDC) appointed by the junta which took power in a coup last May, has been framed by the coup-makers as a critical step to moving Thailand out of political paralysis.
"We have drafted this constitution as it is a reform one, in hopes of leading the country out of cycles of conflicts, disunity and undemocratic fights," CDC spokesman Gen. Lertrat Ratanavich told The Associated Press. "I'm confident this constitution will provide justice to every side (of the conflict), more than the previous charters."
Many are not so sure. Critics and activists have been warning for months that the constitution includes anti-democratic provisions designed primarily to prevent any group loyal to Thaksin Shinawatra and his sister Yingluck from assuming power. The current completed draft reportedly confirms these fears. Unelected individuals can become prime minister with parliamentary support, while most lawmakers would be appointed rather than elected. And parliament will also be elected via proportional representation, a system that would dilute the power of any large party and favor small parties and coalitions.
Of course, this is only a first draft. Feedback would have to be sought from various sides before returning to the CDC, and possible amendments can be made before it would be finally approved.
Meanwhile, it is still unclear whether the junta will hold a referendum on the new constitution – a key way to secure public approval. The Bangkok Post reported April 17 that deputy government spokesman Sansern Kaewkamnerd struck a cautionary note in his own assessment, suggesting that the government would not want to see a repeat of political violence given the current polarized environment. National Reform Council chairman Thienchay Kiranandana suggested that even if a referendum is to be held, it might be on only certain sections of the document rather than the entire draft charter.
An election is expected to be held in 2016, though polls have been delayed before as The Diplomat has reported previously.
Junta leader and prime minister Prayuth Chan-o-Cha, for his part, has insisted that the constitution is "most suitable for Thailand" and will "effectively resolve" the country's problems. According to The Bangkok Post, in his weekly "Returning Happiness to the People" program Friday evening, Prayuth also took aim at several groups of people, including those who speak without thinking and politicians who adopt populist policies, insisting that he thinks about what is best for the majority.
"These people will seek to exploit the poor and control the media. I cannot do that. I only think about what's best for the majority, Prayuth said.