The Curious Case of North Korea's Overseas Doctors
The hermit kingdom's medical professionals work in places like Cambodia and Nigeria.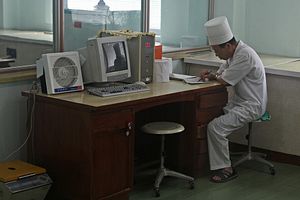 In February, three North Korean men were murdered in their homes in Yobe, Nigeria. Their bodies bore wounds indicative of machete blows, most likely inflicted by members of the jihadist group Boko Haram, whose bloody war has claimed up to 15,000 lives across the country since 2009. One of the men was beheaded. Two were slashed across the throats. Their wives were found hiding in the flowerbeds. The Associated Press report on the murders contained scant details about the lives of the men, who were not named, besides their profession: they were doctors. They arrived in 2005 as part of a 'technical exchange' with a local hospital and stayed a decade. They lived in modest homes in a quiet neighborhood and rode three-wheeled taxis around town.
By the standards of paranoid North Korea, a regime so fearful of defectors that it punishes their families as a deterrent, their lives may seem extraordinary. But the men who died in Yobe were just a few of scores of medics living and working in countries across the globe as the sanction-hit regime tries to generate much-needed cash through overseas labor. Meanwhile, according to experts who piece together scraps of information coming out of the secretive kingdom, its own overburdened and under-resourced health care system struggles: citizens self-medicate and patients are forced to undergo amputations because they can't access the drugs they need.
In the same month as their compatriots and colleagues were slaughtered in Yobe, a husband and wife duo from Pyongyang were working at Lipo Long Hua International Hospital, a white building on a bustling thoroughfare in Phnom Penh, the capital of Cambodia. The small kingdom has a long-standing friendship with Pyongyang that dates back to King Norodom Sihanouk's brotherly alliance with Kim Il-Sung. Even today, it is one of the only places where the secretive nation's presence is announced with some fanfare. (Nigeria, which has ties with the hermit kingdom dating back to the Cold War when North Korea was in a mood to back African dictators, is another.) Cambodia has allowed the country to build a $10 million museum in Siem Reap and the country boasts seven branches of a Pyongyang-run restaurant franchise, called Pyongyang Restaurant. When contacted by The Diplomat this week, a receptionist at Lipo Long Hua International confirmed that the hospital employed two North Korean doctors, referring further questions to her manager who could not be reached for comment.
The medics flew to Phnom Penh and started working at Lipo Long Hua International in September, according to a Cambodia-based diplomat who was not authorized to speak to the media. The official named eight countries in addition to Cambodia and Nigeria as employers of North Korean doctors: Ukraine, Bangladesh, Kurdistan, Tanzania, Russia, Uganda, Ethiopia and Nepal. The operation bears a resemblance to the overseas restaurant chain, which has some one hundred branches worldwide, said the diplomat.
Overseas postings are highly sought after by citizens of isolated North Korea and are usually reserved for those with 'good songbun' or in the upper classes. Doctors on foreign postings earn around $1000 per month, of which some $800 is sent back to Pyongyang, according to the diplomat. By comparison, waitresses in the overseas restaurants are said to earn a few hundred dollars, of which a similar proportion is deducted. The human rights abuses that go on there have been well documented: waitresses are reportedly not allowed to leave the restaurants except under strict guard and forced to practice dance routines late into the night. Last year, a 21-year-old waitress fled to Thailand with a South Korean customer. Doctors are comparatively free to move around, at least in Cambodia, and frequent the restaurants where, according to reports from one regular, they are "treated like VIPs" by staff who serve up special meals free of charge. But a patient, speaking on condition of anonymity as his treatment was ongoing, said the doctors lived on-site at Lipo Long Hua International and were on call 24 hours a day.
The primary customers of both North Korean hospitals and restaurants are South Koreans abroad, particularly those who speak poor English and crave the home comforts of food and their native language. The patient at Lipo Long Hua International said he chose the hospital so he could communicate with medics in Korean. He said he was initially distrustful of the doctors, so sent a copy of one of the scans they provided to Seoul where South Korean doctors gave a second opinion. The answer was the same. "I think they are analyzing correctly," he said. "[Lipo Long Hua International] was a little better than the local [Cambodian] clinics."
By most accounts, North Korea's own healthcare system is in a woeful state. Last year, the Guardian reported it was "crumbling" due to lack of food and drugs and biting economic sanctions. Residents said self-medication with methamphetamine was widespread. According to Greg Scarlatoiu, executive director of the Committee for Human Rights in North Korea, many people are forced to have amputations simply because the drugs needed to cure infections are not available. "Due to the shortage of antibiotics, many infections/injuries result in amputations," he said in an email.
Analysts agree that many doctors are trained to decent standards but lack the equipment needed. "My understanding of the problems with healthcare in North Korea is that there is not enough medicine and resources, rather than a lack of trained doctors," said Sokeel Park, the director of research and strategy at non-profit Liberty in North Korea. "For ordinary North Koreans, if you don't have money you are not going to receive proper treatment and medicines," he added.
Dr. Shannon Perry, an epidemiologist who helped set up a tuberculosis laboratory in Pyongyang, is one of the few foreigners with first-hand knowledge of North Korean hospitals. "The conditions in DPRK (the Democratic People's Republic of Korea) are very demanding, with chronic shortages of pivotal resources," she said in an email. "The physicians I knew seemed dedicated problem solvers… They worked with limited resources, and were very eager to receive information on techniques and practices in the West."
As part of the program, a group of four doctors toured medical facilities in the United States. "I was often embarrassed showing them our Bay Area facilities, because northern California is one of the wealthiest areas in our country," Dr. Perry recalled. "They were very pleased to have these opportunities, though I think they were also trying to be realistic about what resources they had to work with at home." One of the biggest challenges facing North Korean doctors is their isolation: the global medical world is increasingly interconnected through the web, conferences and international standards of care, said Dr. Perry. "It is unnecessary in this day and age for any country to be isolated from international professional resources."
As with most things North Korean, it's difficult to tell how isolated the doctors living overseas are. One detail in the story of what happened in Yobe may offer an indication: the chairman of the hospital managing board expressed his regret that they were not accommodated inside the hospital where there was more security, like their colleagues in Phnom Penh. There's a bitter irony in the fact that had they been a little less free they might have lived.
Poppy McPherson is a journalist working for Coconuts Media in Southeast Asia.