What State Secrets Did Zhou Yongkang Leak?
Is the charge against Zhou related to rumors of an attempted coup?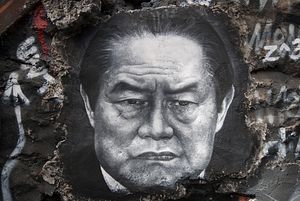 On Friday, Zhou Yongkang, the first former member of China's Politburo Standing Committee to ever be charged with corruption, was officially indicated on charges of "bribery, abuse of power and intentional disclosure of state secrets," according to Xinhua. The indictment comes as no surprise; Zhou was expelled from the Chinese Communist Party on the same charges back in December.
The charges of bribery and abuse of power are par for the course when it comes to corruption cases. However, the charge of leaking state secrets is particularly tantalizing, as Zhou previously served as the head of China's domestic security affairs. The indictment report said Zhou had intentionally disclosed secrets, and called the act "particularly serious."
What secrets, exactly, Zhou is accused of disclosing remains a mystery. China's definition of "state secrets" is quite broad – for example, in 2008, an American geologist, Xue Feng, was convicted of leaking state secrets for transferring data on the location of Chinese oil wells. Xue believed the data was public, a mistake that earned him nearly eight years in prison. (For more on the byzantine process of classifying something a state secret in China, see Susan Finder's overview).
But Zhou's crimes may have been more nefarious. China's state-run media has recently been hinting that Zhou and Bo Xilai, the former Chongqing Party secretary convicted of corruption last year, were plotting together to seize power. In March, the Supreme People's Court said that Zhou and Bo had "trampled on rule by law, wrecked party unity and engaged in nonorganizational political activities." As China Digital Times notes, the final three words are an unusual phrase, leading netizens and experts alike to theorize on what it could mean.
A Beijing Youth Daily article interpreted "nonorganizational political activities" to mean political activities that defy the direction of Party leadership, going against the Party and betraying the Party's objectives. That same article quoted Zhuang Deshui, an expert on corruption at Peking University, as saying that Zhou and others had tried to follow in the footsteps of China's infamous "Gang of Four," who were accused of seizing political power during the Cultural Revolution.
That's the closest Chinese official media has come to substantiating the rumor that Zhou and Bo were actively seeking to wrest power away from Xi Jinping. As Willy Lam, an expert on Chinese domestic politics, told the Washington Post, Zhou and his faction "did not believe that Xi Jinping was qualified to be general secretary." While Lam says there's no evidence Zhou and company were planning an actual coup, "they did form an organization inside the party to go against Xi Jinping."
The rumors also hold that Zhou sought to use his position as China's domestic security tsar for his advantage in the political infighting – including the possible use of wiretaps and other surveillance directed against political opponents. That could potentially be tied to the official charge against Zhou of "disclosing state secrets."
However, it's important to note that the charge of leaking state secrets is actually less than some were expecting – Zhou could potentially have been accused of "endangering state security," a far more severe charge that is punishable by death. The charge of leaking state secrets carries a lesser sentence (although the corruption charges alone would allow Zhou to be sentenced to death).
Zhou's indictment was brought by the Tianjin Municipal People's Procuratorate, and he will stand trial in Tianjin. Chinese officials have promised an open trial for Zhou Yongkang, but the portion of the trial dealing with state secrets will likely be closed to the public for security reasons.