In New White Paper, China's Military Embraces Global Mission
China envisions a global role for its military –especially its navy — to protect overseas interests.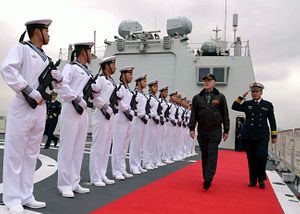 On May 26, China's State Council Information Office unveiled a new white paper in a press conference. The paper, entitled "China's Military Strategy," is the ninth such white paper focused on China's military to be released since 1998, but it's also unique. Defense Ministry spokesperson Yang Yujun noted a stronger strategic and forward-looking focus in this year's white paper compared to its predecessors.
The Diplomat has already looked at the new white paper, with Franz-Stefan Gady providing an overview and Ankit Panda noting the continued focus on Taiwan. But there's another aspect on the broad strategic and forward-looking level noted by Yang deserving of attention: China's vision for a more global role for its military.
The white paper started with an emphasis on the positive: "world war is unlikely and the international situation is expected to remain generally peaceful." That being said, however, China also sees a variety of threats to both world peace and China's specific national interests: "power politics" and international competition for influence, "neo-interventionism," terrorism, and "ethnic, religious, border and territorial disputes" leading to possible and on-going small-scale wars.
In the words of the white paper, "the national security issues facing China encompass far more subjects, extend over a greater range, and cover a longer time span than at any time in the country's history." The greater range of threats necessitates of a greater range of response: "In response to the new requirement coming from the country's growing strategic interests, the armed forces will actively participate in both regional and international security cooperation and effectively secure China's overseas interests."
Observers have long expected the global role for China's military to increase as its overseas interests grow. For example, China's historic evacuation of its citizens from Libya in 2011 quickly became something of a new normal when the PLA repeated the feat earlier this year by evacuating citizens and foreign nationals from Yemen. Massive Chinese investments in Sudan and South Sudan also surely played a role in the unprecedented decision to send an entire battalion to join the UN peacekeeping mission in South Sudan.
The white paper provides a clear confirmation that the PLA will continue to expand its range of operations and capabilities. That has implications for each of the main service branches. In general, the PLA is seeking to shift away from a narrow focus on defense of its territory and near-periphery, toward the ability to defend and secure Chinese national interests farther abroad.
For PLA Army, that means continuing to shift "from theater defense to trans-theater mobility" – the ability to carry out military operations in different regions. This will be achieved by building "small, multi-functional and modular units" that are more adaptable and flexible and thus better suited for responding to crises.
Likewise, the PLA Air Force will move "from territorial air defense to both defense and offense." New and improved capabilities in areas such as air strikes, airborne operations, and information countermeasures will increase the PLAAF's ability to respond to crises overseas.
But the biggest shift is reserved for the PLA Navy. The white paper pegged the maritime domain as one of four "critical security domains" (with the others being space, cyberspace, and the nuclear realm) where China must increase its capabilities. Accordingly, the white paper calls for China to abandon "the traditional mentality that land outweighs sea" – a sea change in China's strategic thinking caused by growing national interests abroad. As the white paper puts it:
It is necessary for China to develop a modern maritime military force structure commensurate with its national security and development interests, safeguard its national sovereignty and maritime rights and interests, protect the security of strategic SLOCs and overseas interests, and participate in international maritime cooperation[…]
In practice, that will mean the PLA Navy moves from an emphasis on "offshore waters defense" to an equal focus on "offshore waters defense" and "open seas protection." In essence, China wants to play more of a role in guaranteeing its vessel safe passage through international waters –a role dominated by the United States for 70 years. The reference above to the need to "protect the security of strategic SLOCs [sea lines of communication] and overseas interests" is a part of the new emphasis on "open seas protection."
Given unease in the region about China's rise, especially in regards to its move to advance territorial claims in disputed regions, China as a regional (much less global) policeman might not sit well. China seems conscious of this tension and is at pains to emphasize that its will not abuse its increasingly global role. Spokesperson Yang sought to quell fears by denying that China is building an overseas military base, despite media reports that China is seeking a base in Djibouti. China "will never seek hegemony or expansion," the white paper insisted. Whether its neighbors believe that claim is another question entirely.