Is This Japan's New Challenge to China's Infrastructure Bank?
There is more nuance to Tokyo's approach than some of the headlines suggest.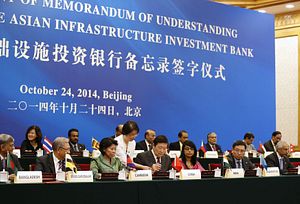 On May 21, Japanese prime minister Shinzo Abe announced at a symposium in Tokyo that Japan would inject $110 billion to help develop high-quality Asian infrastructure.
Abe's announcement, made during a speech at the 21st International Conference on the Future of Asia, has been widely read as a direct challenge to the China-led Asian Infrastructure Investment Bank (AIIB). In reality, while there is little doubt that Japan is asserting its own role in Asian infrastructure development, it is also true that the idea that Tokyo is adopting a new and adversarial, zero-sum approach is somewhat simplistic.
With the announcement, it is clear that Japan is attempting to both boost its involvement in the Asian infrastructure space and differentiate itself from China's approach. Some have focused on the numbers and optics, such as the fact that the $110 billion amount announced was just a little higher than the AIIB's founding capitalization of $100 billion, or that the announcement came just as a key AIIB meeting was being held in Singapore. But the more substantive point is the kind of infrastructure Tokyo is trying to promote. As Abe put it in his speech, Japan wants to spread "high-quality" infrastructure in Asia "taking a long-term view." That was a not-so-subtle dig at China's AIIB amid lingering doubts about the bank's standards ranging from environmental-friendliness to debt sustainability.
That being said, it is also important to keep all this in perspective. First, Abe's proposal is better framed as a boost to Japan's already significant commitment to Asian infrastructure rather than a new move altogether. According to Japan's finance ministry, Abe's five-year, $110 billion plan is essentially around a 25 percent increase from the current annual spending by Japan and the Japan-led Asian Development Bank (ADB) for high-quality infrastructure projects – which is now around $17 billion a year – rather than a fresh initiative altogether. Japanese officials have also been talking about such an initiative for a while now, with Finance Minister Taro Aso providing a sneak preview of sorts during the ADB's annual meeting earlier this month.
Second and more generally, it would be unfair to characterize Japan's position towards the AIIB as adversarial. In reality, Tokyo has still not officially made up its mind yet about whether to be part of the AIIB and has left the door open to joining in the future. Japan has also publicly said that it would desire greater cooperation between the AIIB and the ADB, even if it has been careful to stress that this would depend on the sorts of rules and procedures that the AIIB eventually adopts. In the meantime, over the past year or so Tokyo has also been tirelessly asking China for clarifications on the specifics of the AIIB (though Beijing has not been very forthcoming thus far). The two countries may also discuss the AIIB when they hold talks on June 6. All this suggests that Japan is more accurately adopting more of a skeptical, wait-and-see approach rather than an outright adversarial one.
Third and finally, while there is little doubt that there are differences in the visions that China and Japan might present on Asian infrastructure, it is worth noting that Tokyo has been trying to adroitly balance advancing its own vision while also recognizing the realities of the region. As I have written previously, given the huge infrastructure financing gap in Asia, regional governments have little tolerance for Manichean worldviews which cast any initiative as part of a broader U.S.-China rivalry (See: "The Truth About China's Big, Bad Infrastructure Bank"). The wisest course for those who have legitimate concerns about the AIIB is to express them publicly and privately to China, attempt to influence the bank directly and indirectly from within or without, and make the case for alternative visions and have the confidence to let the best model win over time. Japan, to its credit, thus far appears to be doing all of these things rather than adopting a more rigid approach. And Abe, to his credit, struck a balanced note in his speech, saying that given Asia's voracious infrastructure demand, rather than calling for quality over quantity, Asia should pursue both quality as well as quantity ambitiously.