Kazakh Growth Rate to Bottom Out in 2015
The recovery of the Kazakh economy depends on Russia and China.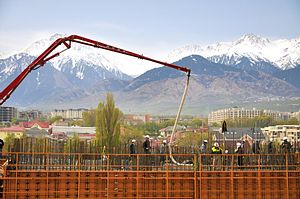 The good news, according to the World Bank's latest Kazakhstan Economic Update, is that in 2015 the country's steeply diving growth rate should bottom out. The bad news is that the recovery won't be quick and depends on Russia and China.
The update estimates that Kazakhstan's growth in 2015 will drop to 1.3 percent. Five years ago, Kazakh growth pushed ahead at 7.3 percent, rising to 7.5 percent in 2011. After 2013, the growth rate began to dive sharply, from 6 percent in 2013 to an estimated 4.3 percent last year. The World Bank notes, as many have, that the downturn is largely tied to falling oil prices and "regional geopolitical developments."
According to the update, the economic downturn has not had a severe impact on poverty reduction and labor market development outcomes. Growth in the service industry slowed, but is still expanding at 6 percent. And what the update calls "social arrangements" have kept unemployment low. But official unemployment statistics may be misleading as such "social arrangements" include companies keeping employees, but reducing their hours, or placing them on leave without pay.
In the last decade, significant job growth in the service sector — particularly in trade and education — has compensated for losses in the agriculture sector. These areas of growth have also contributed to a falling poverty rate and population migration to urban centers, where service jobs are more plentiful. The update, however, does note that poverty persists in rural areas and low-skilled households have not benefited as greatly, as the jobs created are in occupations that require medium- to high-skill levels that many do not have. The challenge will be reaching these populations.
Meanwhile, both domestic and external demand is down. A January World Bank Report noted that "in the first half of 2014, export volumes to Russia fell more than 10 percent year on year in Kazakhstan." The fall in domestic demand is linked in the most recent report to "the loss of consumer purchasing power and of consumer confidence after the February 2014 devaluation." In February 2014 the Kazakh currency, the tenge, was devalued 19 percent against the dollar. Kazakhstan's President Nursultan Nazarbayev has indicated that he has no plans to further devalue the currency, although the World Bank report comments that "for the medium term a more neutral monetary policy stance and a more flexible exchange rate regime would more sustainably support growth."
The government's two economic support packages, combined with budget cuts, have had a modest impact. The first one trillion tenge package (about $5.5 billion) was targeted at relieving credit problems in the banking sector and providing subsidized loans to small and medium-sized enterprises (SMEs). In his November 2014 speech unveiling the second stimulus and his new economic policy ("The Path to the Future" — Нұрлы Жол), Nazarbayev focused on continuing subsidies for SMEs as well as increased investment in infrastructure — particularly related to EXPO 2017 and roads, which he called "the essence of life, the source of a modern existence."
Although the World Bank estimates Kazakhstan's future growth rates will improve after 2015 — increasing to 2.8 percent in 2016 and 3.9 percent in 2017 — it highlights that the country's growth is still very much dependent on oil prices and economic developments in China and Russia. Possible spoilers are a "greater than anticipated slowdown of the Chinese and Russian economies, and heightened investor risk perceptions if the Russia-Ukraine situation remains unresolved."
Unmentioned in the update is the Eurasian Economic Union, which some analysts have indicated is the source of a brewing trade war between Kazakhstan and Russia, and ought to be considered in terms of its impact on growth in the country.