South Korea Reveals New Attack Submarine
Seoul unveils its sixth Type 214 submarine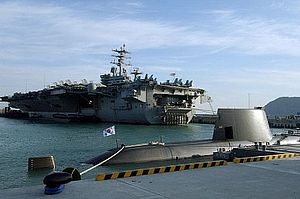 South Korea unveiled a new 1,800-ton attack submarine Thursday.
The Yu Gwan-sun, the Navy's sixth Type 214 1,800-ton submarine, was revealed at a launching ceremony in the southern coastal city of Geoje, South Gyeongsang province. Manufactured by Daewoo Shipbuilding and Marine Engineering Co., it is named after a renowned independence fighter during Japanese colonial rule, partly designed to commemorate the 70th anniversary of the nation's independence from Tokyo. While South Korean submarines have frequently been named after independence fighters, this is first time that one has been named after a woman, a fact that has been widely cited across local media reports.
The new diesel-electric submarine is equipped with indigenous ship-to-ship cruise missiles that have a maximum range of 1,500 kilometers and are capable of carrying out precision strikes, as well as torpedoes and mines for anti-vessel and anti-submarine operations. The submarine is operated by Air Independent Propulsion (AIP), which allows the crew to carry out underwater missions for up to two weeks without access to atmospheric oxygen. It also has a maximum underwater speed of around 20 knots, which would allow it to travel from South Korea to Hawaii and back without refueling. "This is our core strategic weapon and the symbol of strong naval capabilities, which enables us to secure…maritime control," Defense Minister Han Min-koo said in his congratulatory remarks according to South Korea's Yonhap News Agency. The navy plans to commission the new submarine in November 2016.
The launch of the new attack submarine is in line with South Korea's broader ambitions in this respect in the wake of challenges from neighboring North Korea as well as a rising China. The Navy has previously said that it plans to build five more 1,800-ton submarines by 2019 and to deploy nine 3,000 ton submarines capable of launching ballistic missiles starting in 2020. It currently operates nine 1,200 ton- and four 1,800 ton subs. In February this year, South Korea became one of the few countries to have a submarine command, joining, among others, the United States, Japan, France, Britain, India, South Korea and Thailand (which, as I noted earlier, is in the awkward position of having a submarine command but no submarines).
North Korea is believed to have numerical Navy superiority over Seoul, with some 70 vessels. Though many of these are midget subs, it also has around 20 1,800-ton Romeo-class submarines. There have also been indications that Pyongyang may be developing submarine-launched ballistic missiles as well.