South Korea Targets New Submarine Launch in April 2016
Seoul will unveil its seventh Type 214 KSS-2 class diesel electric submarine.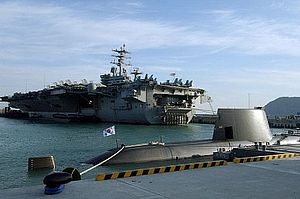 South Korea's navy is looking to launch a new submarine next month, an industry spokesperson has confirmed.
A spokesperson from South Korean shipbuilder Hyundai Heavy Industries (HHI) told IHS Jane's on March 1 that the Republic of Korea Navy (RoKN) is aiming to launch its seventh Type 214 KSS-2 class diesel-electric submarine with air-independent propulsion in April 2016. The spokesperson also said that the 1,700 ton vessel had been named Hong Beom-do after a South Korean national hero and had been given the pennant number 079.
South Korea began the KSS-2, its second submarine acquisition project, in 1999 after a postponement due to budget cuts after an economic crisis. Hong Beom-do is the seventh of nine KSS-2 submarines that the RoKN is expected to operate by 2019, with the boats being built by both HHI as well as Daewoo Shipbuilding and Marine Engineering (DSME) in cooperation with Germany's Howaldtswerke-Deutsche Werft (HDW). As I reported earlier, the sixth, the Yu Gwan-sun (078), also named after a Korean national hero, was launched last May (See: "South Korea Reveals New Attack Submarine").
As I noted previously, KSS-2 class submarines are equipped with indigenous ship-to-ship cruise missiles that have a maximum range of 1,500 kilometers and are capable of carrying out precision strikes, as well as torpedoes and mines for anti-vessel and anti-submarine operations. The submarine is operated by air-independent propulsion, which allows the crew to carry out underwater missions for up to two weeks without access to atmospheric oxygen. It also has a maximum underwater speed of around 20 knots.
As of now, South Korea's submarine fleet consists of the Type 214 KSS-2 class submarines as well as nine 1,200-ton Chang Bogo class submarines it acquired under KSS-1. In addition, Seoul is also developing nine indigenous 3,000-ton submarines through its KSS-3 program.
In February last year, South Korea also became one of the few countries to have an independent submarine command, joining, among others, the United States, Britain, France, India, Japan, and Thailand (which, as I noted in a separate piece, is still in the awkward position of having a submarine command but no submarines).