Tajikistan Considers Ban on Arabic Names
Things could get awkward with a president whose name is derived from that of the fourth caliph, Imam Ali.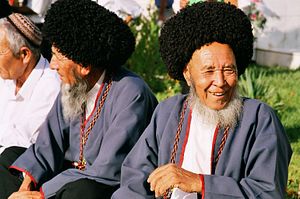 Tajikistan's ongoing attack on expressions of Islam in the country continues. In past weeks, we've heard stories about forced beard shavings and more than a few comments on how (and in what colors) Tajik women should dress.
Now, parliament is considering a law that would forbid parents from registering baby names that sound "too Arabic." RFE/RL's Farangis Najibullah previously reported on the proposed amendments to the country's civil-registry laws in April. This week Eurasianet's David Trilling highlighted a May 4 Interfax report quoting Jaloliddin Rahimov, the deputy head of the Justice Ministry's department of civil registry, as saying that "after the adoption of these regulations, the registry offices will not register names that are incorrect or alien to the local culture, including names denoting objects, flora, and fauna, as well as names of Arabic origin."
Eurasianet gets right to the irony:
The effectiveness of such measures might be debatable. Besides, the name bill casts such a wide net that, if taken literally, it could catch the country's biggest fish: the president [Emomali Rahmon]. Emomali is a version of Imam Ali, Prophet Muhammad's son-in-law, the fourth caliph for Sunnis and the first imam for Shia Muslims.
Central Asia has grappled with names for some time. From the ashes of the Soviet Union, regional leaders attempted to forge national identities that were separate from Russia and each other. Many dropped Russian-sounding names — Rahmon dropped the -ov from his surname in 2007. Interestingly, Najibullah reported in 2010 that Islamic names were the new fad in Tajikistan, paired with a rise in piety. Seems the fad has gone too far.
An essay published today on Eurasianet helps conceptualize what's happening in Tajikistan. For a country where Islam is the majority religion, it sure seems difficult to be a Muslim. Sebastien Peyrous, a research professor at George Washington University, outlines in his essay the roots, role, and results of Central Asia's state religious affairs committees. He says that despite Islam's historical and cultural importance, "the ruling classes in Central Asia do not conceal their wariness of religion, tending to see faith as a competitor to state ideology." They therefore keep religion under state control via "modified Soviet-era instruments."
While these committees are intended to serve as a bridge between the state and religious populations, they are also designed to serve as a "bulwark against perceived fundamentalist and violent movements." This mismatch leads to mismanagement as "believers who attend an unregistered mosque, a Baptist group, or Jehovah's Witnesses denounced for 'overly virulent proselytism' tend to be lumped together with extremely minor movements that indeed favor radical and violent political Islamism."
Peyrous issues the same warning many Central Asia watchers have: that in trying to exert absolute control over religion these committees undermine public trust in the state and may engender the very same extremism they are intended to deter.