Tajikistan and Central Asia's Culture Wars
There's no unweaving history's tapestry in Central Asia.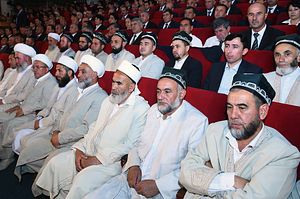 Most of the men in the audience donned dark suits and the few women mostly wore dresses, colorfully patterned in classic Tajik style. A few rows of religious elders — state imams, wearing uniform robes — sported beards and caps or turbans.
On the stage, Tajik President Emomali Rahmon marked the 10th anniversary of the state's law on rituals and traditions.
The 2007 law was billed as an austerity measure. By making elaborate multi-day wedding celebrations with hundreds of guests a finable offense, Dushanbe ostensibly sought to encourage a degree of frugality in Tajik citizens. Birthdays, under the law, were to be immediate family affairs celebrated inside the home. In 2015, a Tajik man was fined about $500 for posting a picture of his birthday cake from inside a public cafe. The law addressed both secular and religious holidays and celebrations.
Praising the law this week, Rahmon said it had saved Tajiks more than $2 billion and led to an increase in weddings. Beyond saving money on wild parties, the 2007 law had overtones of cultural revival and preservation — the definition of what being "Tajik" meant.
Rahmon used the occasion to once again comment on religious expression in the country, an old bone for the president.
RFE/RL summarized the high points:
Rahmon said that hijabs and black dresses for women are not in line with Tajikistan's traditions, and that beards are not necessarily a reflection of religiosity.

He called on Tajiks to "love God with their hearts" and not seek to show their "righteousness" through external attributes.

Rahmon said citizens should preserve what he called the "true culture of Tajiks" and resist "alien cultures and traditions" he said were being propagated on the Internet.
Tajikistan isn't alone in trying to define and defend its "true" culture. In neighboring Uzbekistan, for example, a new rule requires singers to obtain permission from a state regulator before posting new videos to YouTube. Neglecting to do so could lead to the loss of their required performing license.
"This is being done to prevent the dissemination of music videos that do not correspond to national traditions and the mentality of the Uzbek people," a representative for Uzbekkonsert, the state music regulator, told RFE/RL's Uzbek service.
It's not really a shocking development, in December 2015, the Uzbek government complained that there were too many songs and videos which failed to adhere to Uzbekistan's "age-old spiritual and cultural values and national traditions."
There's no unweaving history's tapestry in Central Asia. The region's cultures are vibrant and ancient, interwoven with each other, influenced by and linked to countless others near and far. The Soviets tried — and failed — to weed Islam out of the region; and religious revival since the fall of the Soviet Union hasn't put a stop to vodka sales in Dushanbe. Culture is not, nor should it be, mutually exclusive.
Rahmon's government has an awkward relation to Islam, exacerbated by the rise of Islam-inspired global terrorism and the Global War on Terrorism in response. While Rahmon rages against beards and hijabs, he still makes haj to Mecca. And while there are various laws in place to set limits and control on religious expressions — from limiting the call to prayer to banning fortunetellers — the laws are not uniformly applied. The government may try to distinguish between good and bad Islam and Tajik and non-Tajik practices, but decrees do not make culture, people do.