U.S.-Japan: A Pacific Alliance Transformed
The new defense guidelines have the potential to mark a new era in the U.S-Japan alliance.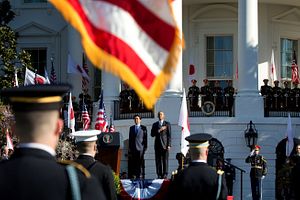 All eyes were on Washington last week, for the visit by Japanese Prime Minister Shinzo Abe. One of the focal points was a document that altered security ties between the U.S. and Japan. On Monday, the two countries released new guidelines for defense cooperation, outlining the general framework and policy direction for the roles and missions of the two countries' militaries. This new document lays out a vision for the alliance that is rooted in bilateralism but is global in scope. Importantly, Japan has emerged as a willing partner in many roles it once considered taboo. Together, this translates into a stronger alliance with broader functions and geographical scope. To quote U.S. Defense Secretary Ash Carter, the updated guidelines will "transform the U.S.-Japan alliance."
The U.S.-Japan defense guidelines had become antiquated. First written in 1978, they specified the alliance division of labor during the Cold War in defense of Japan. The fall of the Berlin Wall meant the logic and assumptions behind them no longer held, as multipolarity replaced Cold War bipolarity and America's brief unipolar moment. As the Soviet threat to Japan evaporated, broader regional concerns over the Taiwan Strait or renewed conflict on the Korean Peninsula emerged. The allies recognized that their relationship was not adapted to this post-Cold War security environment, as there was no operative framework for Japan to support the U.S. in these scenarios. This led to their revision in 1997.
A similar logic drove the current revision. The two allies have expanded their security cooperation over the past eighteen years in ways that were not spelled out in the 1997 revisions. This includes refueling missions in Afghanistan, anti-piracy missions off Somalia, and ballistic missile defense in Japan. Importantly, the regional security challenges of 2015 are very different from those of 1997, with China's pursuit of anti-access and area denial capabilities and salami-slicing activities in the maritime domain topping the list of current security concerns. Japan and the U.S. needed to upgrade their relationship to better respond to today's challenges, basing it on the reality of nearly two decades of policy changes and operational experiences. A number of important changes stand out.
Better coordination of operations. Under the 1997 revisions, the alliance established a bilateral coordination mechanism (BCM) to enable them to coordinate operations in the event of an attack on Japan or a situation in areas surrounding Japan (SIASJ). The BCM was too rigid, however, so it could not be activated unless an armed attack commenced. This meant that even during the 2011 disaster-relief operations following the Great East Japan Earthquake it lay dormant. To rectify this, the allies have now outlined the need for whole-of-government coordination and called for the creation of an Alliance Coordination Mechanism (ACM) that is meant to strengthen both policy and operational coordination in all phases, contribute timely information sharing, and develop and maintain common situational awareness. While the specifics are still unknown, the ACM is meant to be a standing mechanism that will flex depending on the situation so that the alliance can coordinate for all situations. It will be aided by a new emphasis on further integrating bilateral military operations as well as exchanging personnel to enhance operational coordination and continued emphasis on bilateral planning.
Expanded situations of cooperation. Under the 1997 guidelines, cooperation was limited to peacetime, SIASJ, and armed attacks on Japan. While the first and third were black-and-white categories, SIASJ was ambiguous, albeit still focused on a contingency of some sort. The new guidelines eliminate geographic restrictions with the intent to seamlessly ensure Japan's peace and security in all situations to include: a) peacetime, b) emerging threats to Japan's peace and security, c) armed attacks against Japan, d) armed attacks against a country other than Japan, and e) a large-scale disaster in Japan. The inclusion of B and D are significant. B is expansive as it is vague and could be interpreted to mean gray-zone incidents (a growing concern for the Japanese facing paramilitary threats from China in the East China Sea) or protecting freedom of navigation in regional sea lines of communication (a growing concern for both Japan and the U.S. as China ramps up maritime activities in the South China Sea). Its inclusion nevertheless represents a significant step for both countries as it opens the door to involvement in situations to which they may have previously been hesitant to commit themselves. Similarly, D represents a groundbreaking shift in Japan's willingness to involve itself in regional security when Japan itself is not under attack.  Taken together, the alliance is now poised to work beyond the defense of Japan and its immediate environs.   
Expanded functional areas of cooperation. Over the past eighteen years, the alliance has expanded its partnership into a growing array of areas. The revisions codify some activities they have been branching into as well as new areas. Included in the new document is cooperation in ballistic missile defense and intelligence, surveillance and reconnaissance (ISR), and noncombatant evacuation operations as well as cooperation in the fields of maritime security, cyber and space. Importantly, following Japan's passage of the State Secrecy Act, it is not surprising to see the allies recognize the need to enhance intelligence cooperation and information sharing beyond their current levels. There is even a new focus on joint cooperation on defense equipment and technology, including cooperation with third countries. .
Expanded cooperation into global and regional activities. To date, the primary focus of the alliance has been on Japan's defense and the security of its immediate environs. The new guidelines change this paradigm. The allies have signaled their willingness to work closely both together and with other partners in regional and global affairs. This includes peacekeeping operations, humanitarian assistance/disaster relief, activities for maritime security (to include minesweeping, counterterrorism activities, counter-piracy, and non-proliferation of WMDs), partner capacity building, noncombatant evacuation operations, ISR, training and exercises, and logistic support.  While many of these activities are not new to bilateral cooperation per se, the fact that they are "going global" with them will mark an important shift in alliance focus. They are no longer focusing solely on Japan's defense.
Japan's willingness to exercise (limited) collective self-defense. Presaged by Abe's recent announcement that this policy would be relaxed, Japan-watchers were expecting the new guidelines to include this important shift in Japan's willingness to involve itself in regional affairs. The new situations outlined in the guidelines include asset protection of U.S. forces, support for combat search and rescue operations by the U.S., the exchange of information to protect forces participating in ballistic missile defense operations, and logistical support for U.S. forces. Most dramatically is the inclusion of actions involving the use of force that Japan and the U.S. are willing to cooperate together on if a third country is under attack. This includes minesweeping, escort operations, interdiction of shipping activities, intercepting ballistic missiles, and logistical support.  While not combat or offensive operations, Japan clearly has indicated its willingness to do much more beyond its own defense.
These changes represent an effort by the alliance to be more responsive and flexible to the full scope of challenges the allies face in the region and around the world. Their revisions demonstrate their desire to be security providers, albeit in different capacities. Toward this end, Washington and Tokyo have expanded the geographical scope and spectrum of potential situations to which the alliance will respond. While Japan still is not a "normal country" that can fight alongside American troops in combat, it is voluntarily taking on larger security roles alongside its American ally. This is part of the Abe administration's pursuit of making "proactive contributions to peace," which involves more active security contributions to the region, either independently or together with partners. This is welcome news for the U.S. and its "rebalance" to the Asia-Pacific, which emphasizes greater attention to the region, increased cooperation with allies, and an encouragement for allies to take on a greater role in regional security.
How well the allies perform depends on how they execute over the coming months. If successful, Washington and Tokyo will look back at the years 1997-2015 as an interstice between an alliance with a narrow bilateral focus on Japan's defense and limited functions to one that has a global focus on broader security concerns with broader functions. In other words, a truly transformed U.S.-Japan alliance.
Jeffrey W. Hornung is associate professor at the Asia-Pacific Center for Security Studies (APCSS) in Honolulu, HI, and an adjunct fellow with the Japan Chair at the Center for Strategic and International Studies (CSIS) in Washington, D.C. The views expressed above are those of the author.