Understanding Kazakhstan's Politics
Nazarbayev's overwhelming victory notwithstanding, change is taking place in Kazakhstan.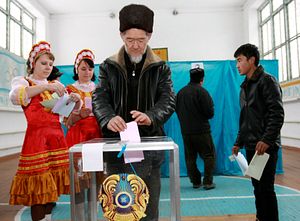 On Sunday, April 26, Nursultan Nazarbayev was reelected as president of Kazakhstan with 97.7 percent of the vote and a voter turnout of 95.22 percent. At first glance, this number is astonishingly high for an elected official, especially one who has been in office for more than twenty-five years. Suspicion of the reliability and credibility of these figures is certainly justified. But a complete negation of the extent to which the results reflect the will of the Kazakhstani population is exaggerated.
No stranger to Kazakhstan, I spent almost a year in Almaty, working as a shoe trader in a bazaar alongside migrant workers from Tajikistan. I have no illusions about the quality of life for ordinary citizens. Not every person in Kazakhstan supports Nazarbayev and not everyone has benefited from the country's development since 1991. There are always winners and losers in periods of transition.
One of 170 international journalists covering the elections, I met with members of the Central Electoral Commission, International Observers, government ministers, a leading official in the Nur Otan Party, and even got to ask Nazarbayev a question at the post-election press conference.
These experiences have given me some insights into the internal dynamics shaping the Kazakhstani electorate and influencing the country's political development. Kazakhstan's internal politics are evolving. Nazarbayev's reelection was driven by voters' desire for stability and security, with the tacit understanding that Kazakhstan is at a difficult stage of its development, and that in the course of his next term the president must implement a comprehensive reform agenda.
Conservative Political Culture
There are several factors that explain the Nazarbayev's reelection.
First, the president is genuinely popular. For many Kazakhstanis, life in general has improved since independence: Per capita GDP rose from $1,647 in 1991 to $13,172 in 2013, qualifying Kazakhstan as a middle-income country alongside Russia, Ukraine and Belarus. Kazakhstan was chairman of the OSCE in 2011 and has hosted major international sporting events, such as the Asian Winter Games. Nazarbayev constructed a new capital city, Astana, and many Kazakhstanis are proud of the burgeoning political profile of their young country. Under Nazarbayev, Kazakhstanis are certain about the future security of their country.
Second, Kazakhstan's national ideology and apparent obsession with global crises is a consequence of history and geography. There is one common Kazakh saying, "when a neighbor lives by the heart, everyone's yard is larger." As a nomadic population, Kazakhs were constantly migrating and exposed to the dangers of the opened steppe. Given that there was no system for the formal delineation of property, leaders of nomadic tribal confederations cultivated relationships with other sedentary and tribal peoples in order to secure land and resources for subsistence. In other words, nomadic populations always had a "multi-vector foreign policy."
Kazakhstani political leaders often refer to "global crises," fearing spillover from conflicts in Afghanistan, Iraq and Syria into their neighborhood. One of the reasons why elections were held early is because a deputy in the Assembly of the Peoples of Kazakhstan argued that the global economic crisis will worsen in 2016, when elections were initially scheduled.
Third, one consequence of the historical development of the nomadic peoples of Inner Eurasia is that Kazakhstan's contemporary political culture is characterized by conservatism and a preference for a strongman leader whose primary responsibility is to safeguard national security. As Vladimir Socor, a senior fellow at The Jamestown Foundation and one of the three Americans on the Independent International Observer Mission to the elections in Astana said at the post-election press briefing, the results of the election reveal a desire by the Kazakhstani electorate to "maintain the institutions of the Presidency in the post-election era." Kazakhstan is a traditional society in which "deference to authority defines political culture."
Today, Kazakhstan shares borders with Russia, China, Kyrgyzstan, Uzbekistan and Turkmenistan. Its geographical position in the heart of Eurasia makes it vulnerable to importing foreign ideas from ISIS and other extremist groups. Kazakhstan is one country in the former Soviet Union that has not experienced internal war since 1991. Kazakhstan regards the situation in Ukraine not as an example of renewed Russian imperialism, but rather as an example of inter-ethnic and inter-linguistic confrontation between peoples in the former-Soviet space. As a Tajik migrant worker in the bazaar explained to me, "In Ukraine, there are just two nationalities – Ukrainians and Russians – and look at them fight. In Kazakhstan, we have over 120 nationalities – Kazakh, Russians, Dungans, Koreans, Uighurs – imagine if a conflict were to break out here!" Nazarbayev is largely credited with ensuring Kazakhstan's national sovereignty, territorial integrity and the inviolability of its borders.
At his post-election press briefing, I asked Nazarbayev how Kazakhstan's foreign policy would change in the new term. The president reiterated the country's multi-vector foreign policy, and reaffirmed the need to strengthen ties with Kazakhstan's neighbors and major trading partners, China, Russia and the European Union. The president also emphasized that Kazakhstan would continue to work with its strategic partners, the United States and South Korea. In a separate meeting, Foreign Minister Erlan Idrissov emphasized that Kazakhstan's policy priorities have been, and in the new presidential term will continue to be, stability and security and the peaceful resolution of global crises. Kazakhstan has taken an unofficial role as a mediator in the Russia-Ukraine dispute, and the country has hosted the P5+1 talks on several occasions.
Stunted System
While the strong presidency has enabled Nazarbayev to present a strong image domestically and overseas, the expansive institutional powers of the Executive, in conjunction with a conservative political culture, have subsequently stunted the development of political parties.
According to the OSCE/ODIHR International Observation Mission (IOM), the elections "were efficiently administered, however…the predominant position of the incumbent and the lack of genuine opposition limited voter choice." This is true. Abdelgin Kusainov (67), the self-nominated candidate, and Turgun Syzdykov (67) of the Communist Party, represent the Soviet-era generation that lacks new ideas for the country's future. Neither of them were strong candidates and both lacked the financing and outreach structures necessary to compete with Nur Otan.
During the Soviet era, the Communist Party was the state, and the state was the Communist Party. Today, there are nine registered political parties in Kazakhstan, the largest of which is Nur Otan. Nur Otan holds 83 out of the 98 directly elected seats in the lower house of Parliament. The Nur Otan Party counts 850,000 dues-paying members and maintains offices in all 16 of Kazakhstan's administrative divisions, as well as 241 local offices. By law, Nazarbayev is the Chairman of Nur Otan. Many Nur Otan offices are located in government buildings, and the Nur Otan platform constitutes the agenda for future reforms. Nur Otan's dominant position in Kazakhstani politics reinforces the notion of the indivisibility between the party and the state. In this respect, to many Kazakhstanis, Nur Otan can be viewed as a contemporary iteration of the Communist Party.
I interviewed Sayasat Nurbek, the Director of the Institute of Public Policy for Nur Otan. Nurbek is a unique figure in Kazakhstani politics. A fluent English-speaker who studied in Iowa on a Bolashak scholarship, as well as at Duke University, Nurbek worked as a personal assistant for Congressman Mark Smith during his election campaign in 2000. Nurbek confessed that, like many post-Soviet states, Kazakhstan continues to grapple with the institutional legacy of Soviet rule, during which the Communist Party dominated politics and criticism of the state was prohibited. Today, according to Nurbek, Kazakhstanis neither criticize the party nor the state, partly out of fear and partly because they disapprove of the confrontational nature of party politics.
A system with weak political parties is not a phenomenon unique to Kazakhstan; they exist throughout the former Soviet Union. Parties do not aggregate voters into groups and articulate a specific policy agenda based on constituent demands. Rather, parties are tools for elites to mobilize support for an individual charismatic leader. In Russia, for example, the "United Russia party" exists to sustain support for President Vladimir Putin, despite the fact that the Russian president is not formally a member.
Yet, in Kazakhstan, there are distinct groups with concentrated political interests. Ak Zhol is known as the "business party." The Communist Party advocates for more socialist reforms and appeals to older members of the population. The Birlik, or "unity" party, advocates for social reforms. The Auyl Party is a social-democratic party that represents the rural, agrarian population and has its stronghold in the Southeastern regions. These parties suffer from insufficient financing and institutional disorganization.  That said, there is little disagreement between the parties in areas of major policy considerations.
Slowly, political parties are forming, and becoming more dynamic. When I spoke with Kusainov's campaign team, they presented themselves as a green party that sought to implement ecological education programs in school curriculums and introduce incentives for businesses and individuals to adapt an environmentally conscious way of life. They acknowledged that Kusainov would likely lose, but asserted that the elections were an opportunity to present their ideas. They hoped that "if people vote for us, and our ideas, then in the new term, we can implement these reforms."
A Changing Society
While still conservative, Kazakhstan's political culture and party politics structure are maturing, thanks in large part to the demographic of the new governing elite. Previously head of the Bolashak Association – the government program that finances graduate studies overseas, Nurbek observed that Kazakhstani graduates of Western institutions bring back not only knowledge, but more importantly, values. These values include a preference for meritocracy and a rejection of nepotism, Western corporate culture, respect for intellectual property, and social capital. Kazakhstanis who are not able to study overseas can acquire a Western-style education at KIMEP in Almaty, or at Nazarbayev University in Astana. While these young, Western-educated Kazakhstanis are employed, they have not yet formed the "critical mass" in government and business that is substantial enough to generate comprehensive, institutional reform.
But this is a matter of time; change is happening. According to the results of the "World Values Survey," which Nurbek personally helped to carry out in Kazakhstan, 75 percent of respondents indicated health as their number one priority, followed by family, security, welfare, and relationships. This change is a reflection of Kazakhstanis' global engagement.
Reforming a political system and culture is a laborious endeavor that must confront the inertia of path-dependent social norms, behavioral pathologies, and interest groups. There is a generational divide between aging Soviet-era bureaucrats and their young, Western-educated counterparts. There are also regional divisions, as one-third of Kazakhstan's workforce is employed in agriculture. Rural populations are among the most conservative in their ideology and their remote location is an obstacle to engagement. Because many Bolashak alumni work in Almaty or Astana, ensuring an inclusive growth model that includes rural populations is among the major challenges confronting Kazakhstan.
Implications
It was no surprise that Nazarbayev was reelected, but his reappointment is not a prescription for political paralysis in a post-Nazarbayev era. As seen in Turkmenistan, Singapore and Saudi Arabia, a peaceful transfer of power is possible in resource-rich regimes that have a less-than-perfect record of political pluralism and democratic processes.
The maturing Kazakhstani governing elite is preparing for transition through institutional development. The Nur Otan platform calls for institutional reform in five sectors: civil service, economic diversification, transparency in government, rule of law, and national ideology. In his next term, Nazarbayev will be expected to honor his commitment to institutional reforms and implement the Nur Otan's reform program that he endorsed in the post-election press briefing.
The makeup of Kazakhstani society – particularly governing elites – is changing. While Nazarbayev still occupies the Ak Orda, when the time comes to transfer power, there are competent individuals serving in the corridors of power that have the requisite professional experience and understanding of liberal democratic ideals.
Kazakhstan does not have an American-style liberal democracy, and will not likely develop one in the near future. But with time, and a serious effort on reforms in the areas of education, transparency, rule of law, anti-corruption, and free speech, Kazakhstan will develop a more democratic political system.
Dena Sholk spent 2014 on a Fulbright Scholarship in Kazakhstan researching the informal economy. Her work has been published in The Georgetown Journal of International Affairs, Central Asian Newswire, and Delovoi Kazakhstan.