US Will Continue Deadly Drone Strikes in Pakistan
American lawmakers are still in favor of killing militants with UAVs in Pakistan despite civilian casualties.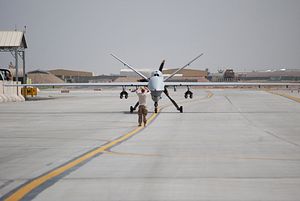 The United States Congress continues to support the White House's lethal drone program, Defense One reports. Despite the repeated killing of innocent civilians, including recently an American citizen, the controversial counterterrorism tactic is facing little public criticism or scrutiny from U.S. lawmakers.
"The collateral damage has been extraordinarily low. That is really a fact. I only wish I could tell you what it was. That is the irony here. This is all classified," Sen. Dianne Feinstein, the ranking member of the Senate's Intelligence Committee told Defense One.
Feinstein's statement is supported by lawmakers from the other aisle including Republican Sen. James Lankford, a member of the Intelligence Committee who noted that, "[w]e are in a war with individuals who are hiding with civilians," "[The administration] does an extremely good job of trying to check and recheck their systems, and when they do a strike, it is not flippant. They are very, very efficient and very, very careful."
Whether the tactic of drone strikes interferes with the United States' foreign policy objectives in the region is of course a different question. U.S. Secretary of State John Kerry, mindful of the delicate relationship with Islamabad, already pledged once that drone strikes in the country will end "very, very soon."
Yet, despite a 2013 pledge to apply more scrutiny in the selection of targets, the Obama Administration's reform has not applied to 46 percent of drone strikes, writes the Council on Foreign Relations' Micah Zenko:
Since May 23, 2013, the United States has conducted an estimated total of 96 drone strikes, killing 578 people, 26 of whom were civilians. In Pakistan alone, 44 drone strikes have killed 265 people, including 1 civilian. Therefore, the policy guidance issued in May 2013 has not applied to 46 percent of all drone strikes and 46 percent of all victims.
Additionally he underlines that, "the White House's purported policy guidance for U.S. lethal counterterrorism strikes issued on May 23, 2013 does not apply to CIA drone strikes in Pakistan. The CIA may still target unknown individuals, and they do not have to pose a purported 'imminent threat' to the United States."
According to the Bureau of Investigative Journalism, more than 400 drone strikes have hit the tribal regions of northwest Pakistan since 2004. Jack Serle who works on the drone project for the bureau stated in an interview with the Huffington Post that, "there's a really interesting difference between what officials in the United States are saying about who's being targeted and who's effectively getting killed by drones. The affiliation, the association and the rank of the people don't necessarily match what is being said about who the drones are targeting."
However, talking about the recent killing of an American even longtime Obama critic, Republican Sen. Lindsey Graham wholeheartedly endorsed the program:
We made a mistake. You know I have been a big critic of President Obama's. I am not going to blame him for this. I blame al-Qaida. We are not going to terminate this drone program. I am sorry these innocent people were killed. I am glad these two Americans collaborating with the enemy were killed. Please understand, we are at war. This is the way war works. It is a nasty, terrible business, but I am in it to win it.